Review: Go for Sisters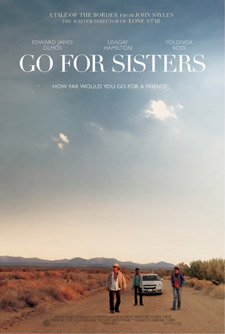 In his latest film Go for Sisters, which screened at SXSW and opens today in Austin, longtime indie filmmaker John Sayles (Lone Star, Matewan) brings us yet another almost noir-ish mystery set on the U.S.-Mexico border. But like his other films, it's primarily character driven. The characters in Go for Sisters are strong, complex and interesting, and make up for a story that seems to meander aimlessly at times.
Bernice (LisaGay Hamilton) is a parole officer who is inadvertently assigned to an old high-school friend, Fontayne (Yolonda Ross). Bernice was always the straight arrow, but Fontayne is on parole after serving time for drug-related crimes. But Bernice needs Fontayne's help to find her son Rodney, who has mysteriously vanished after one of his friends has been murdered.
Bernice and Fontayne soon realize they need help and engage the services of an aging, sight-impaired ex-detective, Suarez (Edward James Olmos) and end up on a long journey involving the border to find out what happened to Rodney and if he's even still alive.
Olmos could have stolen this movie quite handily, but Hamilton and Ross hold their own, especially in scenes where the two lead female characters are together. The changing relationship between Bernice and Fontayne is the centerpiece of the film, but is complemented by Olmos's charming performance. A scene at the border in which the trio poses as a musical group is one of the film's quiet gems.
The mystery plot should be in service of the characters, but it veers off into scenes that feel irrelevant. The scenes are often fun to watch, as when Hector Elizondo makes a brief appearance, but they cause the movie to drag slightly in the middle. One sequence involving the possibility of tunnels across the border felt like it could have been eliminated entirely, especially with the over-two-hour running time.
Go for Sisters is worth watching for its main characters and the excellent cast portraying them, and for some wonderful small moments throughout the film. As a whole, it's not one of Sayles' best, hampered by a weak story overall. But a slight Sayles movie is still far better than many other theatrical offerings.