Review: Narco Cultura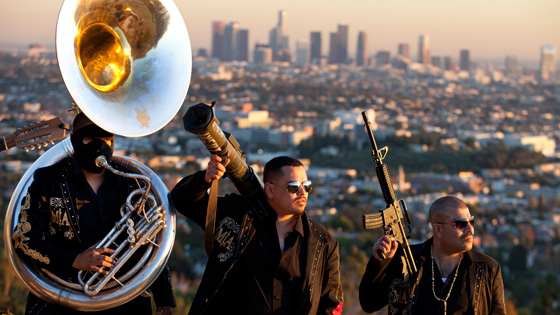 Director Shaul Schwarz examines the drug war in Mexico in the riveting and occasionally gruesome documentary Narco Cultura, opening Friday in Austin. Schwarz is an Israeli photojournalist who shot a series of images in 2011 on the violence erupting across Juarez, but decided the topic needed to be brought to life on the big screen. With this movie, he keeps the spotlight on Juarez, which has become the murder capital of the world while sitting directly across from the safety and relative security of El Paso, Texas.
What struck me right away about the film was the on-camera interviews with children, who could not be older than 10, talking about the murder of their family members as though it was the most common and natural thing in the world. Their day-to-day reality is skewed in an obscenely harmful way thanks to the drug syndicates who rule the streets.
The violence in Juarez grew slowly, but steadily over the years with the murder rate eclipsing 3600 people last year alone. We are introduced to several police officers who work as the "C.S.I." of Mexico, a specialized unit that has been targeted by the drug lords. Every day they are on the job, they are taking the risk that they'll be killed, most likely to be followed on their way home after they leave the office. The irony is that for all of the evidence that they gather, there is such widespread corruption that the majority of cases are never solved.
Narco Cultura examines not just what is happening on the ground, but also the wild success of the musical "corrido" genre. While I had at least seen this depicted on Breaking Bad, I didn't realize it was a widespread phenomenon. Turns out, there are singers and songwriters making a living by getting paid by the bad guys to immortalize them in songs that are now mostly banned by Mexican radio and television, but are played at clubs throughout Mexico and the United States.
The film spends some time with corrido performer Edgar Quintero, a seemingly average married guy with two kids. His talent as a singer and songwriter has led him into this genre where he is glorifying violent criminals for money, but he's doing it from afar in Los Angeles. He occasionally goes on fact-finding trips to shadow men who hand him fistfuls of cash to sing their praises, but then can easily get himself back home to his daily life, leaving the dangerous streets of Mexico behind him.
Narco Cultura presented me with more questions than answers about what is happening in Juarez, but it was clearly a risky film to make. It takes us as close as we may ever get to knowing what is really happening right across the border. The end result is chilling, but leaves you feeling quite helpless to wonder if things can ever change. Fair warning: the film includes some very graphic footage of dead bodies photographed at crime scenes and in morgues.