Review: The Broken Circle Breakdown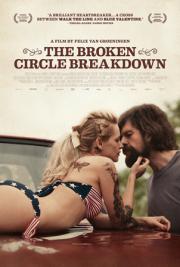 If you stop to absorb the lyrics of most bluegrass songs, you'll find they're not just sad, they're heart, gut and soul-wrenching. This gives you an idea of what to expect from The Broken Circle Breakdown, a romantic drama that uses bluegrass music to frame its characters' tumultuous lives.
Directed by Felix van Groeningen, The Broken Circle Breakdown follows two young creatives, Elise and Didier, as they meet, fall in love, play in a band together and soon enough end up married and parents to a little girl. As life continues to throw surprises at them, they find the strength to keep going in different ways.
Veerle Baetens and Johan Heldenbergh play the leads, and each brings great charisma and energy to the screen. Physically tiny compared to Heldenbergh's towering, banjo-playing figure, Baetens exudes passion and heart as Elise, an impulsive tattoo artist with a lovely singing voice and superstitious leanings. Heldenbergh is alternately gruff and warm as Didier, Elise's atheistic counterpart who is defined by his deep love for American culture and deep hate for its politics.
The two have sharply different views when it comes to religion, philosophy, and just about everything else, but their chemistry and love for their daughter make them a believable couple who you hope finds their way towards happiness.
But just like in a bluegrass song, happiness is hard to come by. When Elise and Didier's daughter Maybelle becomes sick with leukemia, they are forced to watch helplessly as medicine, luck and their own bond as a couple all begin to fail. Maybelle, played by the extraordinary Nell Cattrysse, is the star that guides these two, and when her light begins to fade they are both at a loss.
The story is not told chronologically, but instead as a collage of moments, memories and songs. When one scene takes place in the present and the next in the past, it's often the latter that is more affecting. Watching the smitten, smiling couple as they get to know each other, completely oblivious of what sadness the future will bring, is utterly heartbreaking.
Even more melancholy is achieved with the help of several bluegrass standards, including "Will the Circle be Unbroken," "Wayfaring Stranger" and most memorably Townes van Zandt's "If I Needed You," the defining song of the film. Performances of these transcendent, sorrowful ballads punctuate the narrative and add an emotional dimension that only music is capable of. (I can't imagine anyone making it through the couple's late-film duet without becoming teary-eyed.)
The Broken Circle Breakdown is Belgium's Best Foreign Language Film submission for the 2014 Oscars, and already it has garnered a few awards. It premiered at the Berlin Film Festival and took home the Panorama Audience Award there, and at the Tribeca Film Festival, Baetens was recognized as Best Actress and van Groeningen and Carl Joos took home the Best Screenplay award.
With its high lonesome bluegrass soundtrack and bittersweet universal themes, American audiences should find much to appreciate here, as well. The Broken Circle Breakdown opens at the Regal Arbor today.