Holiday Favorites: Alvaro Rodriguez, 'Ball of Fire'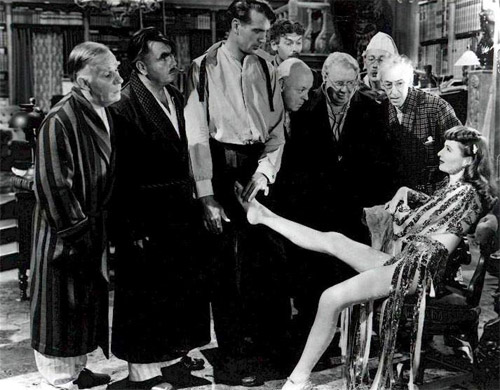 Welcome to Holiday Favorites, a series in which Slackerwood contributors and our friends talk about the movies we watch during the holiday season, holiday-related or otherwise.

This installment comes from Alvaro Rodriguez, who's cowriting El Rey cable show From Dusk Till Dawn: The Series and who's been my favorite Austin Film Festival panelist. Here's his pick, which is also a favorite of Jette and Elizabeth:
Ball of Fire (1941), directed by Howard Hawks, with screenwriters Charles Brackett and Billy Wilder. Slough off the winter doldrums with a classic comedy, whydoncha? Surely one of the greats in so many genres, Barbara Stanwyck makes words sexy in Howard Hawks' Ball of Fire, a jazzy update of Snow White and the Seven Dwarfs and one of my favorite go-to holiday flicks. Here, Babs is Sugarpuss O'Shea (oh, hell, yes), a nightclub artiste who hides out from the mob in a house full of stuffy professorial types (including Gary Cooper) struggling to put together the definitive encyclopedia of slang.
The DVD is out-of-print but it shows up regular-like on Turner Classic Movies and Vulcan Video needs your business. If that whets yer whistle for more, check out the Preston Sturges-penned Remember the Night (a 1940 Christmas classic) which teams Babs up with Fred MacMurray four years before Double Indemnity. Drum boogie!
Want to watch? You can rent Ball of Fire at Vulcan Video (and we're guessing at I Luv Video too, although their database isn't online). The DVD is currently out of print (you can vote to get it re-released on the TCM site), and no streaming options are currently available. If you can't find it now, it's often a staple of the Paramount Summer Classic Movies series, so be patient and keep an eye out.