Ready, Set, Fund: 'Crowd Speak' for Successful Crowdfunding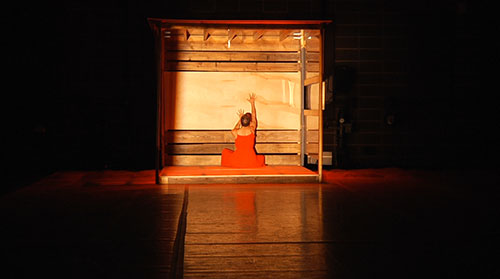 Ready, Set, Fund is a column about crowdfunding and related fundraising endeavors for Austin and Texas independent film projects.
Of all the contributions that I've made over the last 4.5 years to Slackerwood, I find this monthly feature, which can be quite rewarding for filmmakers through the promotion of their funding campaigns, to also be personally rewarding. I enjoy following the progress of many of our featured film projects from creation to production to screening at prestigious film festivals including Sundance, SXSW and Austin Film Festival.
Over the last two years, this column has expanded beyond just film projects with the inclusion of television and web media as well as tools to help filmmakers. For example, one of this month's featured fundraising campaigns is for WriterDuet collaborative screenwriting software. WriterDuet is currently available for free online, but this fundraising campaign, which is funding through Thursday, December 19 on Kickstarter, will fund the creation of a desktop version.
We also receive a considerable amount of feedback each month from filmmakers regarding their fundraising efforts. This month's column thus features two new sections: Projects that we've featured in a past column, and tips from the industry to help with fundraising efforts.
Whether for fundraising or promotion of a film project, the use of traditional and social media is instrumental in ensuring success. This month's tip comes from AFS filmmaker Chithra Jeyaram about a new platform called Thunderclap that uses "crowd speak" to engage the audience.
While pursuing her master's degree in Film Production at The University of Texas at Austin, Jeyaram filmed her debut feature documentary, Foreign Puzzle, which is an expansion and continuation of the characters featured in Mijo (My Son). Both films document Sharon Marroquin's struggle as a choreographer and mother with breast cancer over an 18-month period. The filmmaker uses traditional online tools and social media platforms including a dedicated website, Facebook, and Twitter to communicate about the film and the post-production process on the web.
In an attempt to initiate a conversation with our core audience, the filmmaker initiated a campaign on Thunderclap, the first crowd-speaking platform that allows people to lend their social media voices to ideas, causes or projects they care about via Twitter, Facebook or Tumblr. If a campaign succeeds, then a customized message previously chosen by the campaigners will be posted on the Facebook, Tumblr or Twitter account of the supporters simultaneously on a scheduled day.
Jeyaram reported via email that Foreign Puzzle had a successful Thunderclap campaign, which means that the following message will be published through more than 250 supporters to approximately 250,000 followers all at once on December 11 -- "In Foreign Puzzle, suspended between life and death, Sharon turns to dance for healing. Tell your art and healing story."
The message includes a link to the film's Facebook film page and Jeyaram sais she "sincerely hopes that this social outreach will enable other cancer survivors like Sharon Marroquin to share their unique stories of art and healing by posting to the film's Facebook page or tweeting at the film's Twitter account."
Although not currently funding for financial resources, this Foreign Puzzle campaign is a great example of crowdfunding and could be an effective tool for filmmakers who are seeking funding for their projects.
Other Austin and Texas film-related projects funding this month:
Bandera Unsung - -- This country music documentary features musicians who have played solo and together over several decades in the Texas Hill Country. (Kickstarter, ends Wednesday, December 18)
Brotherly Love -- The film adaptation of the critically-acclaimed novel Seventy Times Seven by Salvatore Sapienza has been adapted for the screen by writer/director Anthony J. Caruso, and it tells the story of Brother Vito Fortunato as he struggles with his vow of celibacy. (Indiegogo, ends January 5)
Draw --This documentary is described as "A Movie About Comic Art and the Artists Who Create It" and features engaging interviews with well-known comic artists across the U.S. (Kickstarter, ends Monday December 30)
Isistren Album and Documentary -- A local female roots reggae band is seeking funds to both create an album and document the process along with live concert footage. Perks include digital downloads of their music. (Kickstarter, ends Thursday, December 26)
Pornistan -- Austin-based writer/director Asad Kirmani calls his second short film, which was shot in Austin and won an award at the Flatland Film Festival, the world's first "terrorist sex comedy." Kirmani is looking for marketing and distributions funds for the film, about "a disillusioned young Pakistani-American man who is fed up with the Immoral West and wants to become a suicide bomber. After accepting his mission from the local terror cell he explodes prematurely." (Indiegogo, ends December 26)
Check out the teaser for Bandera Unsung below:
Updates on previously featured projects:
Stuntwoman and documentary filmmaker Patty Dillon is still in need of backers for There Will Be No Stay, the personally intimate story of the men faced with the unbearable act of taking another person's life on behalf of the criminal justice system. Local supporters include Austin-based Arcanum Pictures (Grow Up, Tony Phillips) producers Paul Gandersman and Peter Hall. The film is funding through Wednesday, December 11 on Kickstarter for funds to cover post-production.
The Reel Change Film Frenzy, which was also featured in last month's column, continues its Indiegogo campaign funding through January 4. Some of the organizations that will benefit from this year's film productions include Drive a Senior, Austin History Center Association, VSA Texas, and Pug Rescue of Austin.
Have a project that you would like to be considered for an upcoming "Ready, Set, Fund," feature about crowdfunding and related fundraising endeavors for Austin and Texas independent film projects? Contact us with the subject line "Ready, Set, Fund" if you have a film fundraising project you'd like us to know about.