What's Streaming: Strong and Amazing Women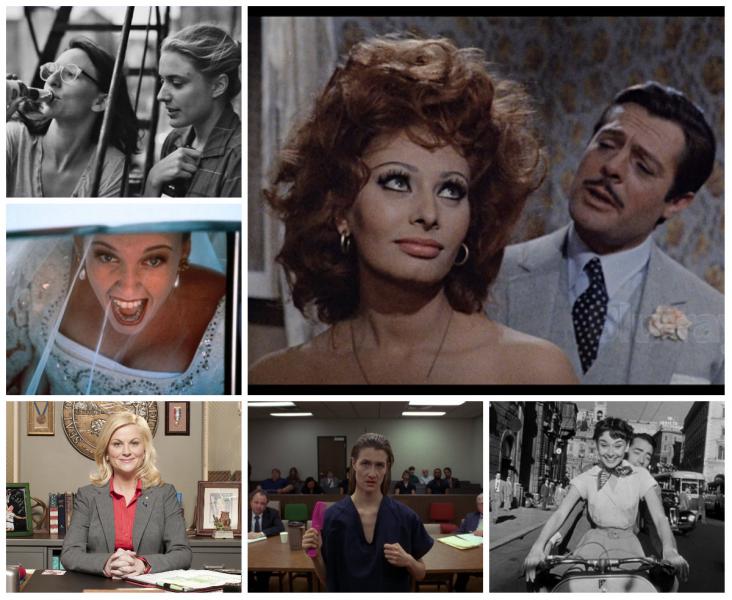 When I think back on 2013, I think of all the times I heard or read about strong, brave women around the world. Wendy Davis, Malala Yousafzai, Gabrielle Giffords and Kaitlin Roig-DeBellis caught my attention, each and every one of their battles epic in their own regard. Several of these ladies fought to protect the rights of women, often getting hurt or knocked down along the way. They didn't take "no" for an answer, and in some cases put their lives on the line for what they believe in. This was a rough year for the girls, but even in spite of all of this, it still made me incredibly proud to be a woman.
I gravitated toward this topic because I feel that lately I have been stumbling upon movies with great female protagonists. Some you side with from the start, while some you feel might just be flat out crazy. Nonetheless you root for them, even if it isn't until the very end. Before the year is over, I hope you take the time to thank and root for all of the amazingly beautiful women in your life. Happy holidays!
FILM
Frances Ha -- How lucky I was to stumble upon this gem of a film, especially after all of the discussion I'd heard about it. Frances (Greta Gerwig) is a 27-year-old modern dancer living in New York City. She lives with her best friend Sophie (Mickey Sumner) and has a carefree life, taking each day as it comes. This comes to a halt, though, when she turns down the opportunity to move in with her boyfriend, only to discover that Sophie is moving out to live with someone else. Frances must then figure out how to navigate life solo, taking on odd jobs and having a few too many life lessons all at once. This film is one that I believe many twentysomethings will be able to relate to, particularly those in an artistic field. It gives you hope that friendship will always prevail and, even when life throws you a curveball, you can still find the silver linings in every situation. Jette reviewed the movie when it hit theaters earlier this year. Available on Netflix, Amazon Instant and iTunes.
Marriage, Italian Style -- If I could be any one person for a day, it would hands-down be Sophia Loren. She and famous co-star Marcello Mastroianni team up again in a story of love throughout many years. Filumena (Loren) is a well-known prostitute in her hometown. Scared and alone, she thinks that no one will ever save her -- until she meets Domenico (Mastroianni), a high-end business man who instantly falls for her. The film follows their relationship well into their 40s, portraying the struggle of a man and woman who should not be together, but cannot escape each other's love. This film is so full of humor and heartache, you find yourself unable to decide whether you should laugh or get misty-eyed. Loren never fails as a leading lady, and she draws you in every moment that she's on screen. Availble on Netflix and Amazon Instant.

Roman Holiday -- Thinking of Loren and Mastroianni brought this American classic to my mind. Princess Ann (Audrey Hepburn) is on a world tour of Europe after her recent coronation. The teen princess jumps from city to city, never having a moment to herself. Once she hits Rome, she also hits a boiling point and decides to set out on her own vacation. Things aren't off to a great start, though, as she ends up with newspaper reporter Joe Bradley (Gregory Peck), who seeks to get a great news headline out of her. What follows is an intimate tour of Rome, and the joy that comes from making your own adventure. This is a great, light-hearted film for those nights where you just want to kick off your shoes and be humored for two hours. Available on Netflix, Amazon Instant and iTunes.
Citizen Ruth -- You may have caught this retrospective film if you attended the 2013 Austin Film Festival -- screenwriter Jim Taylor presented it. Ruth (Laura Dern) is a drug-addicted mother of four without custody of her kids, who has no home and no money. After she finds herself back in jail, she discovers that she is pregnant again. When a judge orders her to either get an abortion or face felony charges, she finds herself thrown into a debate between pro-choice and pro-life activist groups. With each group trying to help and persuade her to join their side, Ruth must decide what choice is ultimately best for her. This dark comedy from writer/director Alexander Payne (Sideways, Nebraska) will make you think back on all of the women's rights arguments that happened here in town this past year (read: the Wendy Davis debate), and will hopefully offer a different perspective on your political outlook. Available on Netflix, Amazon Instant and iTunes.
Muriel's Wedding -- A bitterly single me was introduced to this film by a friend in college. Thankfully, it instantly lifted my spirits about the quest for romance. A story about finding confidence in yourself, the film follows Muriel (the amazing Toni Collette), a twentysomething Australian girl who just doesn't fit in with friends, family and especially men. Her days are spent sitting in her room, listening to her favorite band records (ABBA) on repeat. Her biggest dream in life is to get married -- the only problem is, she's never even been on a date. Life changes when she finds a friend in Rhonda, a girl she went to high school with. Together, they set out to not only find Muriel a guy, but to also create a new life for themselves. Full of heart and a handful of awkwardly funny moments, this movie is sure to make you smile ... and maybe get a few ABBA songs stuck in your head. Available on Netflix, Amazon Instant and iTunes.
TELEVISION
Parks and Recreation -- You don't have to say much more than "Amy Poehler is in it," to convince me to watch a show. Set in Pawnee, Indiana, Poehler plays Leslie Knope, a feisty and ambitious parks department official who is determined to make life better for her fellow Pawneeians. The series follows Knope through her every day challenges and shows what the mundane (yet hilarious) life of a city official is like. Although the show features an all-star cast of names like Rashida Jones, Aziz Ansari, Rob Lowe and many others, Poehler really leads the show with her witty humor and flawless comedic timing. I became an even bigger Poehler fan when I learned of her organization Smart Girls, which she co-created with local Austin producer and close friend Meredith Walker. Together they produce different web series (such as Smart Girls at the Party) and nationwide events that promote independence in young women, and instill the fact that we change the world by being ourselves. I think it's amazing to see an actress like her use her talent for the benefit of others; it certainly gives me something to strive towards in the new year. Available on Netflix and Amazon Instant.
[Photos in the above collage are screen caps from Frances Ha, Muriel's Wedding, Parks and Recreation, Citizen Ruth, Roman Holiday and Marriage, Italian Style.]