Austin 2013 Comic Con Wrap-up: The Costumes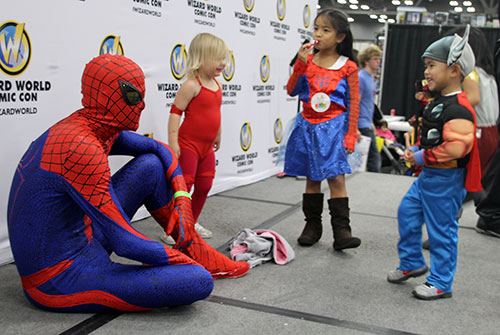 Meeting special guests, attending the panels and shopping for comics, graphic art and movie memorabilia may be the biggest attraction of Wizard World Austin Comic Con, but it's the costumes that really grab the attention on the Austin Convention Center floor at this year's convention. Throughout the weekend, attendees showed off their costumes on the main stage as well as at special cosplay meet-ups. Also this year, Comic Con added multiple Sci-Fi Speed Dating events to the schedule -- I peeked inside and observed several participants of both sexes, all in full costume.
Watching the young kids interact with their favorite superheroes was quite entertaining-- clowns and Santa might be frightening to youngsters, but Spiderman had a constant entourage of young kids eager to interact including Spidergirl, Thor and another girl whose costume was not as easily identified (seen at top).
Check out more of the great costumes at this year's Austin Comic Con after the jump.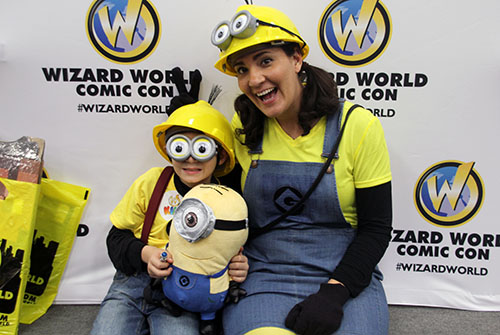 Who doesn't want their own minion? These fun and loveable characters star in their own movie, Minions, which I expect to enjoy even more than the films they originated from, the Despicable Me franchise. A group of several women and their children were dressed as Minions, and couldn't resist taking a picture of mother and son seen above relaxing after a full afternoon of shopping.
The costume that both attendees and Austin Comic Con staff were talking about the most was Billy the Puppet from Saw, seen above riding his bike through the convention center foyer. As far as I could tell, this kid never took off his mask and welcomed photos as well as the opportunity to scare adults.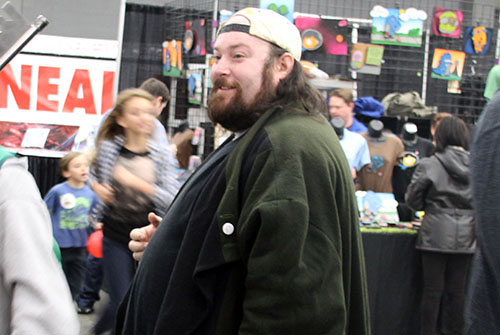 As I mentioned in my earlier post, I saw no shortage of Silent Bobs in all shapes and sizes. Featured above is the person I thought had the most authentic Silent Bob outfit coupled with non-verbal communication. There were far fewer Jays about, which made it even more of a challenge for Silent Bob to communicate with fellow attendees.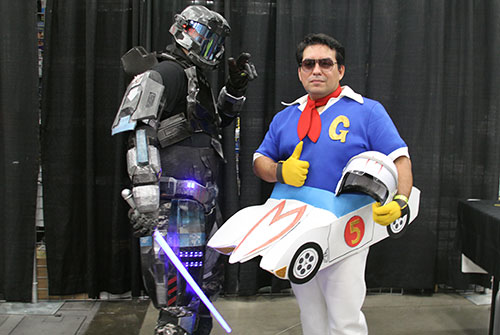 I'm not quite certain what their character is pictured above with a great rendition of Speed Racer and the Mach 5, but I suspect that a light saber isn't the weapon he's supposed to be carrying -- feel free to comment below if you recognize this character, or just let us know what was your favorite costume at this year's Austin Comic Con.
[Photo credits: "Spiderman with Spidergirl and Thor," " Despicable Me Minions," "Billy the Puppet," "Silent Bob," "Speed Racer and Friend" by Debbie Cerda, for use with attribution.]