Austin Comic Con 2013: Family Fun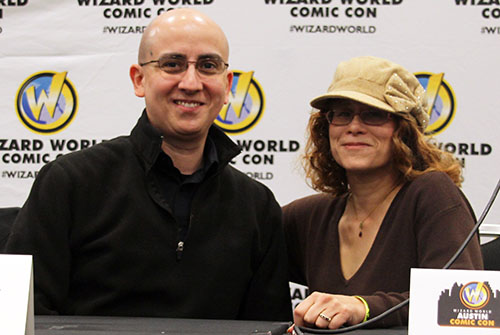 My perception of fantasy conventions in the past was that they tend to be more adult-oriented with anime and cos-play, but the Wizard World Austin Comic Con provides a well-rounded experience for families to enjoy together. Until this weekend I had never seen children attending a panel, yet there were several young kids in the Tailchaser's Song Animated Film Sneak Peek session on Sunday. The movie is an animated adaptation of Tad Williams' popular novel about a group of feral cats who journey through the treacherous world of humans and other animals.
Local producer Paul Alvarado-Dykstra and associate producer/writer Bethany Rhoades (pictured above) talked about how this project came to fruition and provided a "behind-the-scenes" look at the concept art of the film. Local animation artist and voice actor Samantha Inoue-Harte -- who was unable to attend due to illness -- brought in Animetropolis, which she co-owns with Alvarado-Dykstra. Rhoades had initially approached Inoue-Harte for a consultation on how to adapt Williams' novel to the screen, and Inoue-Harte was enthused enough to also join as a producer for the project.
The concept art was created by Matt Rhodes and includes several of the movie's characters, including sidekick kitten Pouncequick, tough squirrel Rikchikchik, and the hero of the story, the star-emblazoned Fritti Tailchaser. Check out the concept art for the Tailchaser's Song movie poster below.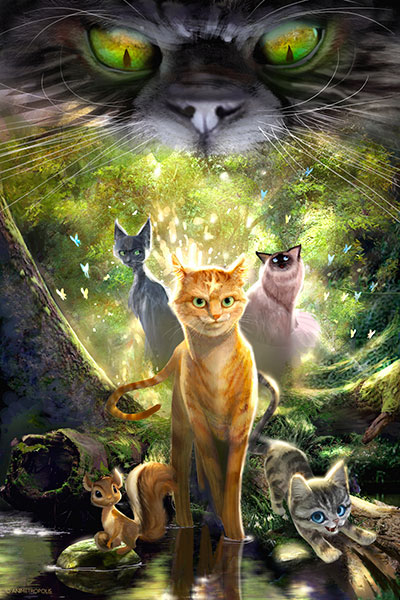 The independent international film project will also feature work from the Japanese animation team IDA (International Digital Artists), best known for their not-so-family-friendly yet critically acclaimed adaptation of Motofumi Kobayashi's military manga Cat Shit One.
Panel attendees were treated to the "proof of concept" CG footage, which is used to calibrate with production partners. Just the lush and colorful movement and humorous dialogue was enough to want more of this lovely family adventure soon. According to the producers, there are quite a few interested financing and distribution partners ready for this independent animated film to make it to the big screen.
Despite the cultural differences between the U.S. and Japan teams, the producers are confident of the film's success due to the shared cross-cultural appreciation for a family of cats. They are more concerned with fans of the book supporting their decision to change the story to both better represent the heroic nature of Tailchaser and improve the representation of female characters.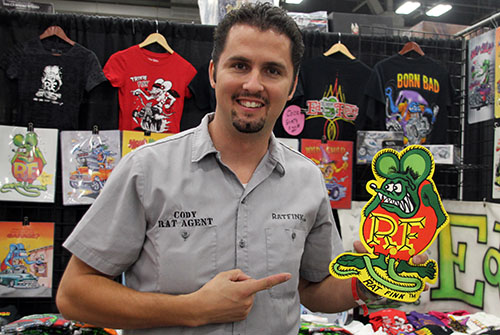 The Artist Alley at Austin Comic Con was much larger this year, with many graphic artists displaying and selling their work. I was extremely pleased to stumble across some familiar artwork from "Big Daddy" Ed Roth, featuring the iconic Rat Fink. Roth's son Cody (pictured above) travels around to various conventions and shows, continuing the legacy by selling Rat Fink memorabilia. Looking through the Rat Fink booth I had a startling recollection of my mother owning a Roth "monster" sweatshirt from her high-school days in the early Sixties that I used to wear to high school on special occasions.
Hot rod and custom car designer Ed Roth was featured in Ron Mann's animated documentary Tales of the Rat Fink, which premiered at SXSW Film Festival 2006, and was also immortalized that year on the SXSW film swag bag. If you've not seen this delightful documentary featuring voices by actors such as John Goodman and well-known musicians including Houstonian Billy Gibbons of ZZ Top, Tales of the Rat Fink is available through Amazon's video on demand.
One of the most popular celebrities for kids of all ages was Jason David Frank, aka Power Ranger Tommy Oliver, who was in attendance with his own family. Frank gave an informative and humorous demonstration on the main stage as well as a special session on stunt karate. The demonstration included how the stunt actors must exaggerate hits and moves for the camera.
Frank recently ventured beyond acting and operating his own mixed martial arts program at his Rising Sun Karate Academy locations in California and Texas, to a role as executive producer on the 2013 short film Bent. This short, about a lifelong friendship between two women, stars and was also written and directed by Amy Jo Johnson. It has won several awards, including the Jury Award at the 2013 Toronto Independent Film Festival and the Audience Choice Award for the Toronto Short Film Showcase at Women in Film & Television Showcase. Johnson should be a familiar name to Power Ranger fans as Kimberly Hart, aka the Pink Ranger.
[Photo credits: "Paul Alvarado-Dykstra and Bethany Rhoades," "Cody Roth and Rat Fink," "Jason David Frank" by Debbie Cerda, for use with accreditation. Tailchaser's Song Concept Art by Matt Rhodes, courtesy of Animetropolis.]