Austin Comic Con 2013: Familiar Faces Everywhere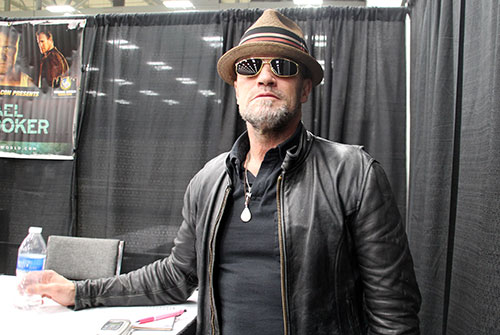 Despite the cold and rainy weather this weekend, massive crowds turned out for the Wizard World Austin Comic Con for a chance to see their favorite television and film stars as well as experience the "Day of The Doctor" 50th Anniversary with a well-attended BBC America simulcast screening. The most popular costumes at this weekend's event were obviously Doctor Who related, with scores of "Weeping Angels," various incarnations of the Doctor and sonic screwdrivers held high.
Oddly another costume that I saw frequently was that of Kevin Smith's recurring character, Silent Bob, which was even more popular than The Walking Dead Daryl and Merle Dixon. Speaking of the Dixon brothers, the lines in the autograph pens were quite long for Norman Readus and Michael Rooker (pictured above). I chatted with Rooker briefly -- he spoke of enjoying the rooftop scene of The Walking Dead episode "The Prologue," especially the aspect of "manipulating the audience in understanding what Merle is about."
One of the projects that Rooker has coming up for 2014 is Marvel's Guardian of the Galaxy, in which he plays a "blue alien named Yondu who flies spaceships." Hopefully we can also expect to see Rooker next year in a film that he shot about four years ago, Bolden!, described as a "mythical account of the life of Buddy Bolden, the first Cornet King of New Orleans." Rooker portrays Pat McMurphy, sidekick to a less-than-scrupulous Judge Perry, portrayed by Jackie Earle Haley.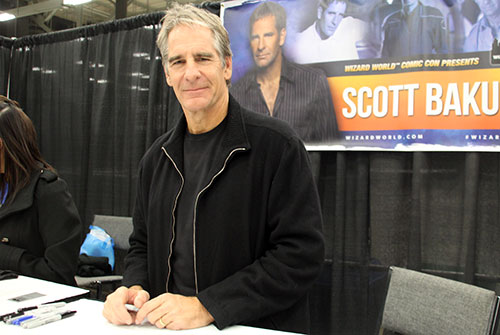 I had not planned to meet either Star Trek captains in attendance at Austin Comic Con, but I did see both William Shatner from the original series as well as Scott Bakula of Star Trek: Enterprise (pictured above). Had I thought about the prospect of speaking with Bakula, I would fear reverting back to my fangirl crush on the actor as Dr. Sam Beckett of Quantum Leap rather than my critical appreciation of his performance in the TNT series Men of A Certain Age. Bakula was quite courteous as he was wrapping up the last hour of what must've been an exhausting weekend, autographing the back of volunteers' t-shirts.
Bakula has roles in at least two comedies expected to be released next year -- Elsa & Fred and Basmati Blues -- as well as a part in the television miniseries Looking, which is currently filming.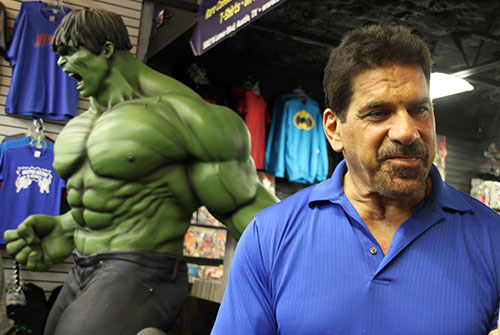 Lou Ferrigno made the rounds in Austin to meet and greet fans before Comic Con, with stops at various businesses including Austin Books and Comics (pictured above). I spoke to Ferrigno, who is quite excited about his role as Skizurra in The Scorpion King: The Lost Throne, the latest addition to the popular action adventure franchise. He has also recently completed filming an episode of Star Trek Continues, a new Trek series continuing the voyages of the original USS Enterprise. He enjoys playing characters against type, and especially enjoys comedy, speaking fondly of his time on the television series The King of Queens.
Ferrigno enjoys connecting with fans when he travels, and as a Los Angeles County Reserve Deputy Sheriff he especially enjoys meeting with local law enforcement officers. When asked about challenges of television versus film, he stated that "with film you have more time, TV is high pressure. I like television more because I like situation comedy. My goal is to have another TV series -- a sitcom -- something against time."
Ferrigno further said he hopes to work on some film project ideas that artist Rob Prior has presented. Prior, who was a featured artist in the Austin Comic Con Artist Alley, is well known for his poster and conceptual art, and is also executive producer for the upcoming supernatural thriller Blood Merchant.
Ferrigno turned 60 earlier this month and is in remarkable shape. When asked about the challenges of physical demands of acting and limitations, he emphasized the importance of "embracing the aging process -- I can't train as heavy as when I was 22 -- and every decade you adjust. Training makes you feel young ... Consistency and passion is key."
[Photo credits: "Michael Rooker," "Jason David Frank," "Lou Ferrigno at Austin Books and Comics" by Debbie Cerda, all rights reserved.]