Movies This Week: November 22-26, 2013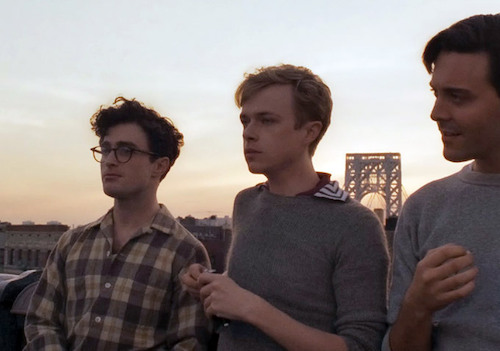 This is an abbreviated, pre-Thanksgiving edition of Movies This Week. While everything pretty much got out of the way of The Hunger Games: Catching Fire this weekend, some new movies will open mid-week to take advantage of the holiday. As such, we're just going to cover what is playing over the next few days and then return on Wednesday with a new post so you can plan your moviegoing accordingly.
The Austin Film Society only has one event lined up before the holidays and that is tonight's special presentation of The Unspeakable Act. It's happening at the AFS Screening Room and online ticketing closes at 3pm, so you'll want to plan ahead to attend.
The Alamo Ritz has a couple more screenings of To Kill A Mockingbird for their "Tough Ladies" series happening this Saturday and Sunday. On Monday night, you can catch a very rare screening of Taxi Zum Klo (also at the Ritz) for this month's installment of Homo Arigato and Anime fans will want to head to the Alamo Lakeline on Tuesday for a 25th anniversary celebration of Akira on the big screen, although you should be aware that the distributor is only providing the English-dubbed version.
Movies We've Seen
The Hunger Games: Catching Fire -- There are plenty of franchises that are criticproof, but it's always good when a blockbuster flick takes over the mulitiplexes and is actually good. While the first installment of this massively successful series was decent enough, the sequel actually has earned a fair amount of critical praise. I'm just hoping that after the first film earned almost $700 million worldwide that they upped the visual effects budget on this one. J.C. says in his review that it's better than the first film and "feels like a proper chapter in the middle of an epic trilogy." It's worth noting that almost 50 minutes of footage was shot with IMAX cameras and the Bob Bullock Texas State History Museum is the only legitimate IMAX screen in the area where you can see it. (wide)
Also Opening In Austin
Diana -- When this project was first announced, it seemed like a sure-fire awards season contender. If you've seen any publicity stills online, you already know Naomi Watts truly embodies the look of Princess Diana, but unfortunately the end result is apparently a huge mess. This biopic focuses on the last two years of her life after she got divorced from Prince Charles. It's opening with only two showings a day, so don't expect it to be around for long. (Regal Arbor)
Delivery Man -- This is an American remake of the 2011 French-Canadian film Starbuck directed by Ken Scott, the screenwriter of the original film. Vince Vaughn plays a man who was a frequent sperm donor in his younger years and subsequently learns that his 20-year-old donations have resulted in 533 children being born, many of whom now decide that they want to meet him. Inexplicably, the movie industry can't get enough of this storyline as another remake of the film entitled Fonzy has also recently been released in France. (wide)
Kill Your Darlings (pictured at top) -- The directorial debut of John Krokidas hits area theaters with an impressive cast. Daniel Radcliffe continues to work hard to leave Harry Potter behind him in his leading role here as author and beat poet Allen Ginsberg. Set during his college years at Columbia University, this murder mystery also stars Ben Foster (The Messenger) as William S. Burroughs and Dane DeHaan (The Place Beyond The Pines) as Ginsberg's object of affection. Elizabeth Olsen, David Cross and Jennifer Jason Leigh also star. (Regal Arbor, Violet Crown)