Lone Star Cinema: Friday Night Lights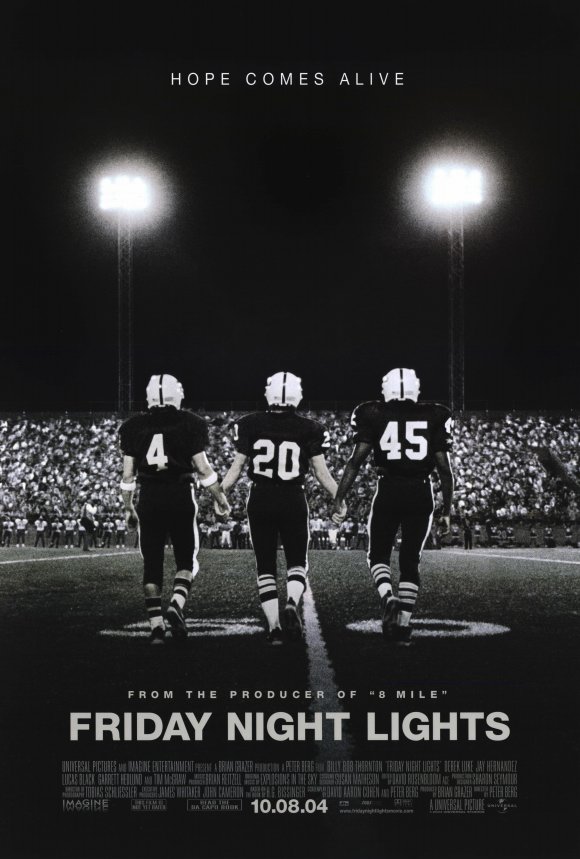 For this Thanksgiving week edition of Lone Star Cinema, I selected an influential football film from the mid-aughts. Before the acclaimed series Friday Night Lights started shooting in town, the 2004 film, starred Billy Bob Thornton as coach to a Texas high school football team. Based on the same-titled book by Buzz Bissinger, Friday Night Lights depicts the 1988 season of the Permian Panthers of Odessa, from the promising pre-season to their challenging finish at state.
The movie places quick scenes from the lives of several of the senior players in between montages of the Friday night action in Odessa's Ratliff Stadium. Derek Luke (Antwone Fisher) plays Boobie Miles, an assured running back who is the team's star. I'd argue Luke gives the best performance in the movie. Midway through Friday Night Lights, his character faces an obstacle he may not be able to overcome, and Luke aptly conveys Boobie's bluster, might and heartbreak.
Quiet quarterback Mike Winchell (Lucas Black, Sling Blade, Jarhead) finds it hard to engage in the game as his thoughts dwell on his uncertain academic future and the fate of his sickly mother. Billingsley, the fullback played by Garrett Hedlund (Tron: Legacy), lives with an abusive drunk dad (country singer Tim McGraw) who was once on a Permian team that won the state championship.
I wanted to know more about the backstories of younger player Comer -- the recently departed Lee Thompson Young (The Famous Jett Jackson) shows such promise here -- as well as stoic linebacker Ivory Christian (former UT player Lee Jackson) and safety Chavez (Jay Hernandez, spotted on ABC's Nashville). For a film that is practically two hours long, Friday Night Lights is relatively light on plot and spends much of its time on the field. I guess if I want to know more about the players, I'd have to read the book.
Peter Berg, who I tend to associate with Chicago Hope first and foremost, directed the drama and co-wrote the adapted screenplay with David Aaron Cohen. Berg would go on to executive produce the eventual TV show Friday Night Lights. Speaking of the show, it kept springing to mind as I watched the film adaptation. Both Connie Britton and Texan actor Brad Leland appear in smaller roles in the film and feature largely in the NBC drama. While Britton plays Mrs. Coach here, she only has about five or six lines of dialogue. It's certainly a waste of a great actress, as she spends much of her time onscreen silently watching from the stands, her hands clasped in a prayerful position.
The earlier cinematic version is also missing the heart and soul of the TV show. I know they are different beings, but it was hard not to think of the Dillon Panthers motto, "Clear eyes, full hearts, can't lose" as Thornton's coach character advises the Permian team to play "with clear eyes and love in your heart" at state. Friday Night Lights brought to mind Undefeated (my review) as well, although that documentary packs an emotional punch this film just doesn't have.
Austin/Texas connections: Filmed in Texas (some of it at Austin Studios), the cast includes Turk Pipkin, Eloise DeJoria and Brad Leland. Some actual former Permian coaches play coaches in the film as well. The band Explosions in the Sky, who provided the soundtrack, formed in Austin.