Review: Dallas Buyers Club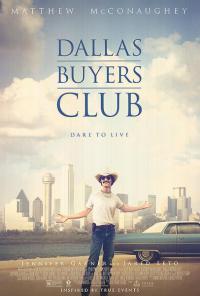 Dallas Buyers Club has all the hooks you'd expect to find in a film released during prime awards-angling season. A couple of big stars, a David and Goliath story based on true events, a topic that will inspire moral outrage, and as you've probably heard, major physical transformations from not one but two actors involved.
The cynical part of me went in fearing heavy-handedness and emotional exploitation, but I was relieved to find that director Jean-Marc Vallee largely steers clear of over-sentimentality. Instead he simply tells the story of a flawed rebel searching for dignity in a terrifying situation, and though a little too glossy at times, the movie satisfies in many ways and is bound to capture a golden statue or two.
Matthew McConaughey stars as Ron Woodroof, a swaggering Dallas electrician/rodeo cowboy who is diagnosed with HIV so advanced that he's told he has a mere 30 days to live. The stigma that this is a gay man's disease, especially common in 1985 (when the story is set), riles homophobic Ron as much as the health implications. He soon discovers what he really needs to be angry about, though; there are no promising medications available for Ron and others like him, and the American system operates as if it truly doesn't care about people with HIV and AIDS.
With his life at stake and an entire federal framework that he feels needs to be corrected, Ron diverts his rage into travel and research and searches for alternative options. Never the law-abiding type, he soon creates a buyers club, a setup that skirts the bounds of illegality by selling memberships rather than pills. Once dues are paid, members receive an array of drugs, vitamins and supplements (mostly acquired from a progressive doctor in Mexico) that are not yet approved by the FDA. As the leader of this club, Ron satisfies his desire for both control and adventure -- he will not sit idly by as his body and health deteriorate.
McConaughey is enthralling as the womanizing cowboy turned AIDS-rights activist. The role allows him to strut, connive, charm and storytell using the precisely channeled charisma he's known for, and his fiery presence (made only more searing by yes, his remarkably gaunt figure) is the beating heart of the film. Though you never forget you're looking at a dying man, McConaughey infuses his performance with sparks of crackling energy.
Jared Leto as Rayon, Ron's transgender sidekick and business partner, also burns the screen with his tragicomic personality and equally emaciated physical form. Rayon stubbornly ignores Ron's prejudices and introduces him to a community Ron previously avoided but now must rely on both as customers and allies. Soon issues of identity and personal preference become far less important than bigger questions: How far can a lifetime be pushed, and how much good can be accomplished before it all comes to an end?
In her supporting role, Jennifer Garner turns in a solidly sympathetic performance as a rule-abiding doctor caught between wanting to uphold ethical standards of care while exhibiting the compassion she is so clearly filled with. More than anything, her character shows what it's like to work in medicine at a time of such confusion, discrimination and fear.
Humor and poignancy are well-balanced in Dallas Buyers Club, and though the film's events are inevitably sad and frustrating, it's not an overtly dark film. Similar to the 2012 documentary How to Survive a Plague, which chronicles ACT UP's efforts to spur the government into slowing and treating the AIDS epidemic in the 80s, a range of emotions are stirred up. Disbelief and anger naturally arise, but so does optimism, which comes from observing the positive action people are capable of dedicating themselves to.
The story is kept simple and death's looming presence is duly acknowledged, but ultimately the focus is on the living as they hold on tight for as long as they can. Oscar bait? Maybe so. It's also a story worth telling.