TAMI Flashback: November 22, 1963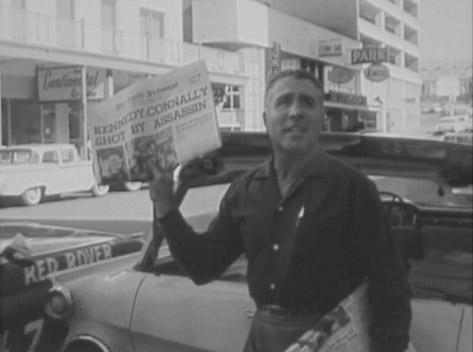 This article is the third in Slackerwood's second series about the Texas Archive of the Moving Image (TAMI) video library. For an overview of the TAMI site, refer to this article in the first series.
President John F. Kennedy's assassination has been exhaustively documented on film; not surprisingly, the TAMI collection includes dozens of assassination-related videos.
Because TAMI is home to so many amazing bits of Texas ephemera, it's also not surprising that one of those bits is a film of Cactus Pryor interviewing J. Frank Dobie about the assassination. Filmed the day before Thanksgiving in 1963, Cactus Pryor Interviews J. Frank Dobie is a rare, fascinating and thoroughly Texan take on the week's tragic events. The two Texas icons -- Pryor was an Austin TV pioneer, Dobie a folklorist, teacher, writer and patron saint of all things Austin -- discuss the assassination and, more importantly, the hateful climate in which it happened.
The interview lasts barely 19 minutes. Dobie rambles at times (at 75, he was in the last year of his life), but he fills many of those minutes with his famed insight and folksy wisdom. He discusses Lee Harvey Oswald's life in some detail; obviously, he had done his homework. He also laments the widespread hatred of Kennedy, along with a more general disrespect of the presidency. Recalling America in his father's time, Dobie tells us that "certainly nowhere in that country was there any hating of the president. The president was respected even though opposed, and it's possible to oppose a president or anybody else without hating him. Hate is modern towards presidents." (Dobie may have had an overly rosy view of presidential history.)
Pryor also asks Dobie about Lyndon Johnson. A longtime acquaintance of Johnson, Dobie has mostly good things to say about him. When asked what he's thankful for at Thanksgiving, he answers without hesitation: "I'm thankful that if President Kennedy had to be killed, of course I don't think fate has anything to do with [it], but if we had to lose our president, well, I'm thankful that his successor is Lyndon B. Johnson."
[View original at Texas Archive of the Moving Image.]
Another intriguing TAMI video is Austin Memorial Service for John F. Kennedy, a collection of footage shot by Austin TV cameraman and filmmaker Gordon Wilkison.
Like much of Wilkison's raw footage on TAMI, the video is disjointed and sometimes of poor quality. But the images give us rare, unfiltered glimpses of life shortly before and after the assassination. We see adoring crowds welcoming Jack and Jackie Kennedy to San Antonio the day before their fateful trip to Dallas. We also see a memorial service in the Texas Capitol only hours after Kennedy was shot. (Many of the legislators in attendance were in Austin for a reception at the Governor's Mansion and fundraising dinner at Municipal Auditorium -- events that never happened, of course.)
Austin Memorial Service for John F. Kennedy also features somber shots of Austinites watching the assassination coverage on TV, along with The University of Texas band playing a mournful tribute to the slain president. Another notable sequence features Austin's most famous newspaper vendor, Tom Attra, who sold newspapers in the River City from 1928 to 1980. Attra holds a copy of the Austin Statesman with an unforgettable banner headline: KENNEDY, CONNALLY SHOT BY ASSASSIN.
[View original at Texas Archive of the Moving Image.]
A more hopeful video is Let Us Continue, which introduces Kennedy's successor. The film chronicles Lyndon Johnson's life and political career in great (and greatly sanitized) detail, emphasizing Johnson's liberal bona fides and his interest in space exploration, and promising he would continue Kennedy's work to combat poverty, fight for civil rights and send a man to the moon.
Let Us Continue is thickly varnished United States Information Agency propaganda, but it's a watchable primer on Johnson's Texas roots and rise to political power. There is great footage of the civil rights movement and other mid-20th century events. It's also beautifully written (this isn't surprising -- the writer is Rod Serling) and slickly narrated by E. G. Marshall.
[View original at Texas Archive of the Moving Image.]
For other interesting Texas videos related to John F. Kennedy, including an in-depth interview with Gov. John Connally about his assassination experiences, search for Kennedy on the TAMI site.