Austin Polish Film Festival 2013: Young Polish Filmmakers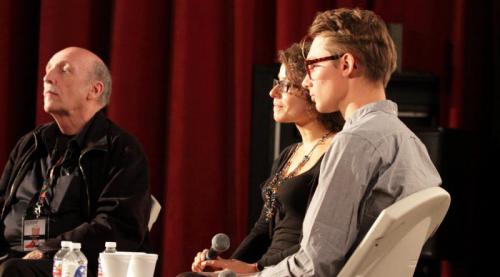 When I saw the chance to cover the 8th Annual Austin Polish Film Festival and Poster Exhibit, I jumped at it mainly because of a Roman Polanski documentary that was slated to screen. While I knew the Austin Polish Society was a thriving organization here in Austin, my knowledge of the country itself is limited to school history books. I took my lack of information as a blessing in this case, as I went into the three-day festival ready to let the collection of Polish filmmakers and their differing views on their land and countrymen wash over me.
Friday night was geared towards young Polish filmmakers. Two in particular, Julia Kolberger and Kuba Gryzewski, both graduates of Polish film schools, each exhibited two of their short films.
The first pair of films, I Won't Be Here Tomorrow and Easter Crumble, were written and directed by Kolberger. Both are family-centric stories about individuals of different ages who all come to a crossroads, and they each had a definite literary feel that comes from the normal everyday. They reminded me of an author named Peter Cameron, whose novels tend to lean towards the internal conflicts of life. Kolberger creates with the same sensibilities; while there is confrontation among her characters, the most explosive ones are with themselves.
It's so easy to make human dramas clichéd, and yet Kolberger avoided the stereotypical at every turn -- especially when it came to her characters, each of whom avoided any traits established by past archetypes. Her writing and character development is so rich, and her ability to weave drama and comedy together seemed so effortless, that both films easily could have been expanded into full-length features. I sadly didn't get to relay this thought to Kolberger after the screening ended, but I hope she at least considers the idea, as the film world definitely needs more voices like hers.
Gryzewski's films, 86 Degrees, Thunderstorms and A Memory of Last Summer both dealt with youth, passion and self-discovery. Two elements about Gryzewski's approach to storytelling really struck me. The first was the way he was able to say so much while often giving his characters very little dialogue to work with. Usually when directors take on this method they fail, and understandably so, since doing this requires a keen use of music, a strong grasp of actors and a specific way of moving the camera. The way both films had me captivated while the main characters said very little for long periods of time shows that Gryzewski can do all three.
The second element, which is probably one of Gryzewski's biggest strengths, is the level of frankness he took in dealing with some of the issues in his films. While 86 Degrees openly deals with a young teenage girl's sexual fantasy and the possibility of having it come true, A Memory of Last Summer features one of the most intense love scenes ever between two teenagers. These themes and scenes are never treated exploitatively or sleazily. Instead there is a true and compelling rawness to them, which perfectly shows the real nature of what individuals at this stage in their lives are actually feeling and experiencing. It takes a brave director to make such creative decisions without hesitation and while risking criticism and labeling in the process. Thankfully, Gryzewski is not the flinching kind.
A Q&A with the two directors (pictured at top) followed the screenings, moderated by Chale Nafus (who also emceed the night). They described the slow but steady artistic and professional paths young filmmakers must take in Poland. One of the more disheartening tidbits I found out about was that there is very little outlet or opportunity for students to showcase their films outside of the classroom. In fact, Kolberger commented on how she had to virtually pirate her own film just to be able to have a copy to show to festivals. It's a shame, but I'm not worried. We haven't seen the last of these two fresh and exciting talents.
[Photo credit: Marek Proga]
Frank Calvillo is an Austin Film Society apprentice.