AFF Review: All Of Me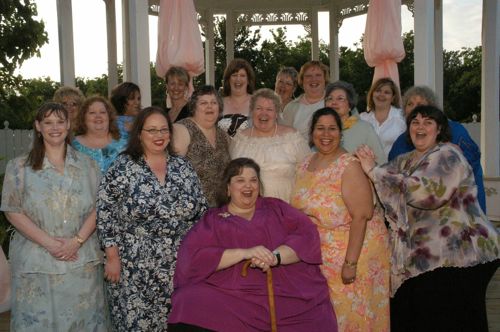 Director Alexandra Lescaze came to Austin and spent several years following a group of local women, most of whom met via a Yahoo message board for BBWs (or "big beautiful women"), for her second feature-length documentary film, All of Me. They started out as a tight-knit support group not just because they were all overweight, but because they were proud and happy about it.
As members of the National Association to Advance Fat Acceptance, the majority of these ladies came together to celebrate and have social outings where they wouldn't be judged by the outside world. While the group initially seems to have a strong resistance to losing weight, the film focuses on the successes and struggles of a few of them to undergo weight-loss surgery and how it affects everybody around them.
One of the most interesting stories in All of Me is of Dawn. When she was younger, she was a 350-pound nude model who posed for calendars, books and cards that were often used as gag gifts. While she does get a lap-band procedure done and loses a considerable amount of weight, her own husband is really only attracted to large women. He begins to drift away from her and obviously flirts with other women in her support group until her band becomes loose and she starts to fall back into her old eating habits again, gaining most of the weight back.
Judy is the one genuine "success story" of the group in terms of weight loss. After undergoing gastric bypass surgery, she experiences a tremendous transformation and loses almost 200 pounds, becomes somewhat obsessed with eating healthy, and even decides she wants to become a yoga instructor. She continues to meet occasionally with the group, although much less so than when she first started. A noticeable rift begins to happen between women like Judy and Dawn, who go from being inseparable friends to struggling with the emotional baggage coming from the notion that if you are no longer overweight, then you no longer fit in with the women you once had a tremendous bond with.
Lescaze's movie represents the joy and pain in the lives of people who have become obese over time, examines the complicated consequences that each woman faces, and shines the spotlight on the stigma of being overweight in our culture. All Of Me tied for the Documentary Feature Audience Award at the Austin Film Festival this year and will debut next spring on PBS's fantastic Independent Lens series.