Mondo Gallery Illustrates 'Tales From The Crypt'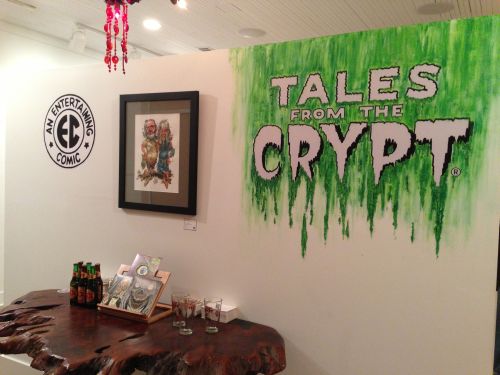 Mondo Gallery's latest show, featuring art inspired by EC Comics and Tales From The Crypt, opened recently and will run through November 23. I was able to attend the opening-night preview and take some photos.
Works included pieces by artists Ken Taylor, Mike Budai, Francesco Francavilla, Ken Garduno, Alex R. Kirzhner, Jeff Lemire, Drew Millward, Gary Pullin, Ash Thorp, Warwick Johnson Cadwell, Jacob Bannon, Kraken, Jim Rugg, Michael Hacker, Luke Drozd, Bruce White, Jason Edmiston, Shawn K. Knight, Jack Davis, Brandon Holt, Florian Bertmer, Scarecrowoven, Eric Skillman, Paolo Rivera, Mark Todd, Chris Mooneyham, Angryblue, Neal Russler, Phantom City Creative, William Stout, James Flames, Shane Hillman, and Graham Erwin.
In addition to a limited number of prints available for selected pieces, Mondo offered a very limited number of "blackline" prints, which includethe black line art without printed color layers. In another first for the gallery, a tryptich of vinyl selections from the soundtrack were available, the first 7" record Mondo has produced.
Original works for sale including prices are listed here. Check out my full set of photos from the show on Slackerwood's Flickr account.