AFF 2013 Dispatch: 'Take Away One,' 'La Navaja de Don Juan'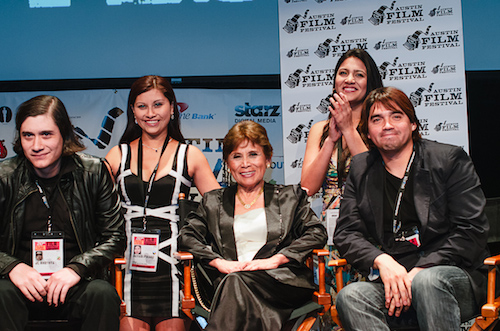 I tried to focus my Austin Film Festival picks this year around movies that were world premiere screenings. The curation at the festival is incredibly diverse and I wanted to see what the programmers thought was deserving of the spotlight. This led me to two of the more interesting films I caught over the last week.
Take Away One is a fascinating documentary that really tells two stories in one. Director William Lorton has spent the last several years editing reality television, but he had his own true-life story to tell. His aunt Mary was a grad student in elementary education at U.C. Berkeley who developed her own teaching style while interning at some rougher inner-city schools in California in the late 60s. Most people have at least heard of Montessori schools, but Mary's contribution to teaching curriculums across the nation is almost as revolutionary.
The first portion of the film covers her intuitive, hands-on approach to learning and her work earned her a job in the "innovative division" of a textbook publisher where she developed the Workjobs math series. Her life was consumed by making education better and she started a nonprofit center with her husband Bob to further an approach that was eventually dubbed "Math Their Way." This would have made an interesting film on its own, but the last third of the movie focuses on her untimely death in 1978. Mary was murdered and, to this day, the case is unsolved. Interview subjects have plenty of theories, but it's difficult to balance conjecture. Even without a solved case, Take Away One is endlessly captivating.
Another treat at this year's fest is the Peruvian comedy La Navaja de Don Juan (The Knife Of Don Juan). Marketing materials for the movie proudly proclaim that it's like "Y Tu Mama Tambien meets Superbad." That quote alone wasn't enough for me to honestly know if it was going to be good or bad, but it turned out to be a lot of fun. Writer/director Tom Sanchez was inspired by some of his family's own stories from growing up in Lima, Peru to create this story of two brothers and one very eventful night where they try to get across town for a party and nothing goes right.
Actors JC Montoya and Rodrigo Viaggio perfectly represent the girl-crazy sibling rivalry between two brothers who are close in age. They're very protective of each other and at the same time are always on the verge of kicking the shit out of each other. There are a lot of twists and turns in the story and at times it gets fairly dark, but there's always an undercurrent of humor and levity around the corner.
You have one more chance to catch La Navaja de Don Juan -- it screens again tonight at 9:30 pm at the Bob Bullock Museum IMAX. [Festival Genius]
[Photo credit: Cast of La Navaja de Don Juan, by Nadine Latief for Austin Film Festival]