Celebrating the Chick Flick: Meet the Forever Fest Founders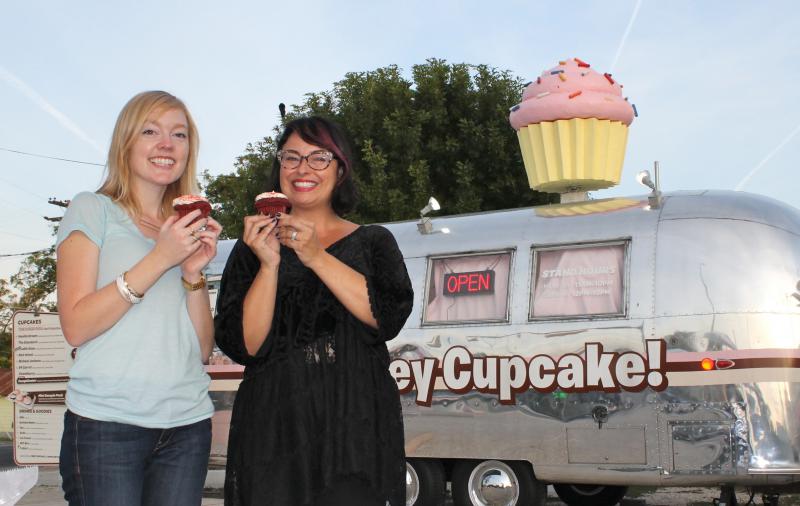 When I say, "Rex Manning," do you smile in recognition or stare in confusion? This is a test of whether you are Forever Fest's target audience (Rex Manning is, of course, the obnoxious yet idolized pop singer from the movie Empire Records). The new film festival, which takes place November 1-3 at Alamo Drafthouse Ritz, celebrates all things "girlie" pop culture ... I'm so excited, and I just can't hide it.
I sat down with the festival's founders Brandy Fons and Sarah Pitre at Hey Cupcake to discuss the formation of Forever Fest and to learn from these two girlie-gurus.
Slackerwood: How was Forever Fest first conceived?
Brandy Fons: Forever Fest was, in many ways, born during Fantastic Fest 2012. I had just seen and loved Pitch Perfect [a rather girlie film about college glee clubs], but I didn't allow myself to indulge because it was Fantastic Fest time and not many attendees were super interested in sharing my Pitch Perfect love. I was thinking about all the film festivals that Austin had to offer, and there really wasn't an option for the Pitch Perfect audience.
Then I started talking with Sarah about her audience that she had already built with her website Forever Young Adult for YA literature fans and the Girlie Night events at the Alamo Drafthouse, and I wondered if she wanted to partner. Some have called it the "little sister of Fantastic Fest," although I'm not quite sure I like "little."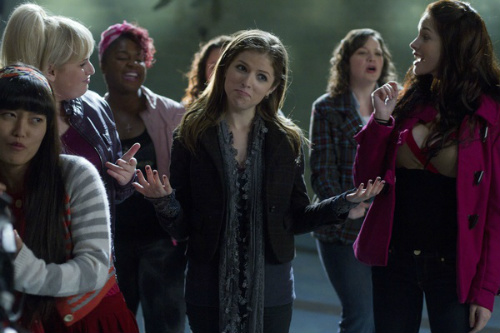 Describe the thought process behind your programming decisions.
Sarah Pitre: If you look at the schedule, it reads like a laundry list of Brandy's and my favorite things. We asked, "What do we want to see? What do we love?" Certainly, a big part of it comes from the Girlie Night programming. We've really been about fostering a wonderful community of fans - both male and female by the way - that love these kinds of movies. So, a lot of the programming springs from that community and what they love. Fortunately, it really matches up with what we love.
It's also a greatest hits of previous programming. For example, we've done Danceoke before and it was awesome, and years ago we did a Cute Show that was ridiculous. So we're doing all that again, but bringing in Buzzfeed Animals to give it that extra value. We're trying to take our programming to the next level.
Fons: Similar to what Fantastic Fest does with horror films, we're bringing that sense of spirit. The Wild Brunch happening on Sunday, for example, is a way to celebrate the men of cinema through their abs and biceps. That's spirit! And, with events like that and Danceoke, I'm beginning to wonder if these will become our signature festival events. Similar to the Fantastic Debates at Fantastic Fest. But, we're going to rely on our audience to tell us which events should be back each year.
The search for Jake Ryan (played by Michael Schoeffling in Sixteen Candles) was also something we talked about in the beginning. That would be a dream to find Jake Ryan and bring him to Forever Fest. The mission continues.
What makes a movie "girlie"?
Pitre: We've had many questions about the terms "chick flick" and "girlie" asking, "Is it derogatory and negative?" We really want to reclaim those terms. I think those are awesome terms. A girlie film to us is anything that speaks to the female experience, which of course is a wide category. And with any genre, there are bad girlie movies and good ones. We're only going to celebrate the ones that we love and exemplify the height of the genre.
For us, these movies are authentic to our own experiences as women, especially when we were teenagers and coming-of-age, but they also offer that happy ending the we always dreamed about. They have a good mix of reality and authenticity but with that fairy-tale aspect.
Fons: They are "forever" to us. These are films that we've always watched and continue to watch. They are our comfort food and make us feel good. This is all indicative in the name of the fest -- something that lives with us forever - and with our logo being in the shape of a heart. Our hearts beat for this stuff.
[Author's note: This is the point where we discuss Henry Cavill for quite a while. I'll spare you.]
Traditional Hollywood marketing makes a big distinction between films for guys and films for girls. Superhero movies are mainly for boys, while the latest rom-com is only for the female audience. In reality, we all know that girls can attach themselves to many things in movies, even the most "male" action, horror film. Mixing it up even more is the fact that so many men direct girlie movies.
Pitre: Hello, The Notebook [directed by Nick Cassavetes]. There are also many parallels to literature, especially young adult literature. When you are looking generally at young male readers, they will only read books with a male protagonist, while young female readers will read a book about anybody. I think it's similar with films. Girls will go to a superhero movie or a rom-com, but men don't generally want to see the rom com. As for behind the camera, it really comes down to skill level. A really good writer or director can get in to the mind of anybody, including a male director telling a female experience.
Fons: Or it can actually be a guy's coming-of-age experience. When was the first time they asked a girl to a dance? They can tell that story and it's still relatable for us.
Pitre: It's like Paul Feig who directed Bridesmaids. It's such a great example of a female film that managed to cross over. I love that movie because it's appealing to men, but is also insanely authentic to the female experience.
Fons: I was recently reading an article about Marvel starting to realize that a huge part of their audience are women. With Marvel saying that openly, that is going to change their marketing strategies in the future. It's cool hearing them say that.
You mentioned YA literature earlier, and that's also part of Forever Fest. It seems like a great fit What was the genesis of including book elements with film?
Pitre: It came about naturally because of my website Forever Young Adult. Over the last two years, we've expanded what we cover, and talk about almost anything we're "fan girling" about. So when Brandy and I were first talking about Forever Fest, including the YA fan community was an obvious choice.
Fons: Many of the films we first dreamed about programming were Divergent and The Fault in Our Stars, which come from the YA book community. We ended up getting The Book Thief (based on the novel by Marcus Zusak) for Forever Fest, so it all came together.
Pitre: Through FYA I've been able to develop relationships with female authors, and we get to bring them into the film community and vice versa. For example, bringing out Kirsten Smith. She has two books, but she's known for writing 10 Things I Hate About You. It's really cool to bring them all together.
Fons: This is all why we ultimately said that Forever Fest should simply be about celebrating girlie pop culture, to bring film, TV, books and fashion all together.
While I agree that we should bring men into our girlie world, there's something about girlie pop culture that makes you want to experience it only with other girls.
Fons: Absolutely, we want our alone time with our girlie pop culture.
Pitre: And it definitely depends on the nature of the event. We've had guys respond to our Empire Records and Sixteen Candles screenings, but not the Cute Show so much.
What do you hope for the future of Forever Fest? Obviously that it's "forever," but beyond that.
Fons: We on purpose kept the programming tight over a single weekend with only one choice per time slot. This allows the community to stay together, but also for us to offer individual ticketing. This makes it more affordable and gives us a chance to learn directly from the audience. What was more popular and what did people enjoy the most? We're also obviously hoping to make the festival longer in the future, and gain more attention to attract talent here.
Pitre: We'd also love to highlight undiscovered films and burgeoning filmmakers.
Fons: And, finding Jake Ryan. That's our ultimate Forever Fest goal.
Tickets are still available to Forever Fest events, which start tomorrow. Now's your chance to party like you've just had your first kiss.
Katy Daiger Dial is the Community Education Manager at the Austin Film Society.