AFF Review: The Little Tin Man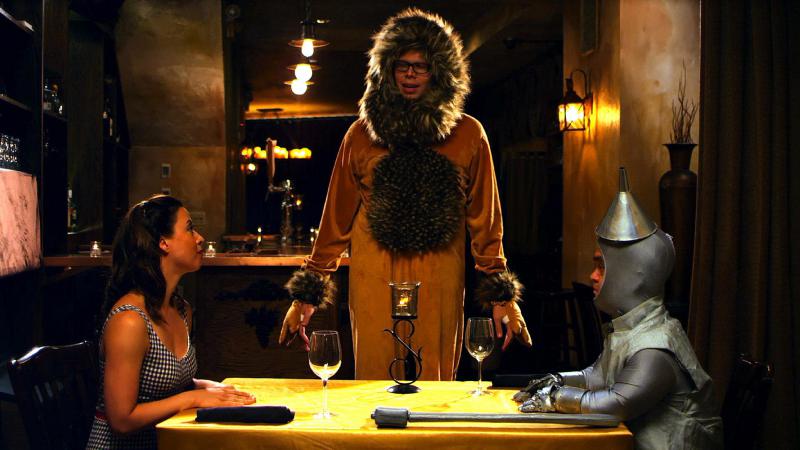 Certain films grab me from just the description of the story. Sure, that's how most films grab us, but sometimes the description can be vague or not true to the story, causing us to miss it entirely. This is why when I read the description, "A struggling dwarf actor auditions for the role of The Tin Man in a Scorsese remake of The Wizard of Oz," I knew I had to do what I could to get a chance to see The Little Tin Man at AFF.
I'll admit: I was sold on the joke of Scorsese remaking The Wizard of Oz, as it is perhaps my favorite movie of all time. That idea alone would make anyone curious to see what The Little Tin Man was about. We often see films that follow the struggle of the working actor, looking for gigs that aren't just commercials and extra work; this isn't a new idea. But a struggling actor who is a little person trying to break the mold on the roles he is typically offered? That is a story I've not seen before.
Herman (Aaron Beelner) works as a waiter in his mother's restaurant. We see that he is ridiculed in his everyday life, either for his genetic stature or failure to succeed as an actor. The sudden death of his mother, along with her leaving him out of her will, causes him to switch direction. When his less-than-helpful agent books him an audition for a Munchkin role, Herman decides that he is going to go bigger: he's going to go for the role of The Tin Man. Through a series of hilarious yet enduring circumstances, Herman, his brother Gregg (played by the always delightful Jeff Hiller) and his friend Miller (Kay Cannon) set out to make Herman the greatest audition tape of all time. Only one question remains: how to get it to Scorsese?
I left this film feeling inspired. So many times, we have opportunities thrown at us to change something in our lives. These small chances for change aren't always obvious or even good, though; sometimes, we have to see the silver lining to realize that it's our time to move on to something better. It reminds me a of a billboard I recently saw around town: "If you change nothing, then nothing will change." The character of Herman encourages us to go for the bigger and better, to make opportunities for our own selves instead of relying on others. I think if we did just that, we, too, would find the same enlightenment that Herman eventually achieves.
Thank you, Matthew Perkins, for this beautiful film. I hope we'll be able to catch The Little Tin Man around Austin again soon.