Housecore Horror Fest 2013: From Suspiria to Manson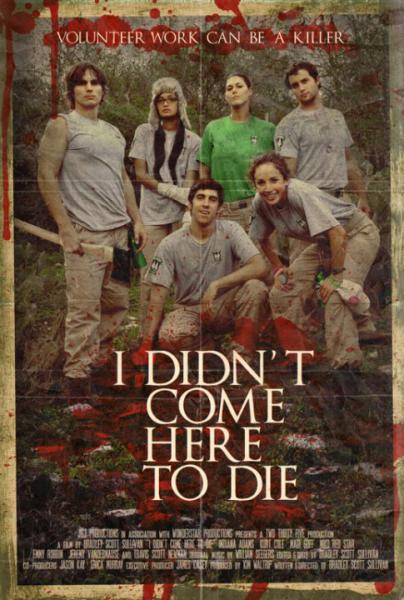 When Sunday came around, the organizers seemed (understandably) tired, but the audiences still wanted more gore and continued to turn up for it. I started off the morning by paying tribute to a film shot right here in my new adopted city. I Didn't Come Here to Die (our review) is the tale of several twentysomethings setting out to do volunteer work in the woods where they come upon evil and sinister forces. The setup might seem a tad familiar -- in a way it does kind of read like Tucker and Dale vs. Evil from the preppy kids' point of view. However, the sort of guerilla filmmaking used in I Didn't Come Here to Die calls to mind past classics while breathing new life into a genre so obsessed with remakes. It's a feat most horror movies try, but fail at hopelessly. At least there's one that hasn't.
In order to illustrate that the folks at Housecore weren't just offering up one blood splatter flick after another, I attended, along with a good number of other festivalgoers, a documentary called Art/Crime. The film focused on a special effects artist named Remy Couture from Quebec, who for years had created photo shoots and short films depicting scenes of gruesome horror and violence using live models as his subjects, which he published on his website, Inner Depravity. The film explores his 2009 arrest for obscenity and the corruption of morality long after he stopped actively posting to his site due to his career as an effects artist on feature films.
Art/Crime is perhaps one of the few documentaries to explore the subject of censorship in such a careful and honest manner. Couture's work is perhaps some of the most explicit I've even seen, and while I have been watching gore fests since I was in elementary school, even I was a bit taken aback by some of his work. While I've always been a fan of gore, I never actually looked at those scenes as works of art. Yet through Couture's eyes, the vibrant colors, the unnatural shaping, and the positioning of the subjects do give off a truly dark beauty. I found myself getting more and more angry at the bogus claims brought against Couture. Anyone who has ever seen at least one police procedural could see this as nothing more than a witch hunt. Yet its idea of how easy it is for artists of all kinds to become victims of representation is stark and real.
If I'm being honest, I believe there are very few people who aren't fascinated by Charles Manson and his "family" on some level. From the countless documentaries to the classic (some would call it) Helter Skelter, the story of Charles and his followers has been told from many points of view. However, with the screening of The Manson Family, the family members themselves finally get to tell their story. Shot in the late 90s but not released much of anywhere, it was a rare opportunity to catch this new take on this part of 1960s California. I won't rehash the events that took place, except to say that the film portrays them accurately without dwelling on any one moment longer than necessary.
What really made The Manson Family stand out was the talking-head documentary style featuring the actual family members. All of the key players, minus Charles, give their take on life at the ranch, Manson's philosophy and their role in the events played. All this is centered around a framing device of a group of kids who send some Manson-like contraband to a TV studio where an awardwinning producer is putting together a documentary about the family. Framing devices can be hit or miss, but this one worked brilliantly by taking the time to examine the actual modern-day influence Charles Manson had on lots of misguided youths who in their own way also consider themselves members of The Manson Family.
The festival concluded with a special screening of the horror staple Suspiria with a live score courtesy of Goblin, which definitely gave the beloved classic a different face, especially during the iconic "sea of barbed wire" scene. The audience ate up the notion of this special screening almost instantly. Not only was this just the best way to end all the horrors the weekend had brought, but it was also the best illustration of the festival itself: a mishmash of horror and heavy metal that worked together harmoniously.
There are a few festivals out there showcasing the dark and horrific sides of humanity, but Housecore has a real shot at standing out from the crowd. A few incidents aside, the wildly eclectic lineup of films and the organizers' devotion to horror had no problem shining through. It's so hard to please horror fans nowadays. Shortly after arriving at the festival, I ran into an acquaintance of mine who introduced me to a friend of his. She and I spent a few minutes discussing the current state of horror and how, as horror fans, nothing really scares us anymore. I remarked that maybe the problem wasn't the films themselves but rather the fans, who at this point feel like they've seen it all. While I still think today's horror films leave much to be desired, Housecore is certainly helping to put that notion to rest.
Frank Calvillo is an Austin Film Society apprentice.