Review: Blue Is the Warmest Color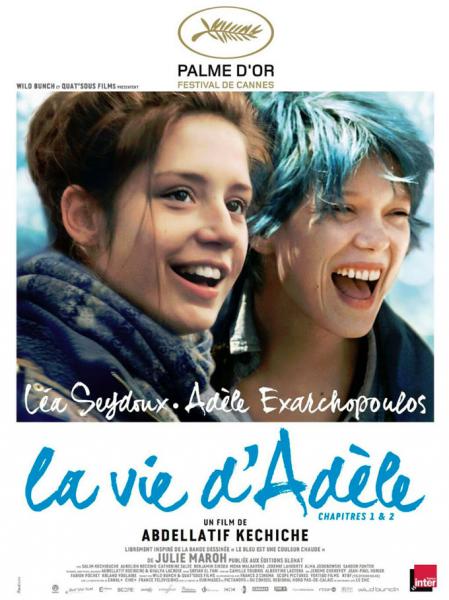 Every so often, a film comes along that gains a reputation. Maybe it's because it has graphic sex scenes or intense violence. Maybe the subject matter is something most audiences consider taboo. The stories often get swept under the rug, sadly -- or the movies are just watched to see what all of the hype is about instead of paying attention to the story. But these are the films that usually have the most substance, as they tell a story that truly captures us as humans. Blue Is the Warmest Color is one of these films.
I can't recall the last time a romance on film captivated me as much as this one. So many movies have been made about relationships of every kind, but rarely do you find one that contains all of the microscopic moments that make up a romance. It can be a glance, or the way a person holds someone's hand, or even just the way they reference the person they love. Director Abdellatif Kechiche has done that so beautifully in this film that it's making me scratch my head and thumb through my "Directing Actors 101" books.
The story follows Adèle (Adèle Exarchopoulos), a junior in high school struggling through the pressures of dating and sexuality. Realizing she is not attracted to boys like the rest of her friends, she finally accepts this fact after she meets Emma (Léa Seaydoux). Emma is unlike anyone Adèle has met before; she is a painter, a philosopher, a mentor and ultimately a lover. The bond these two women share is unlike any other, reminiscent of those tumultuous relationships many of us have been through at some point in our lives.
One of the complaints I have heard about Blue Is the Warmest Color is that its running time is too long (179 minutes). Sure, three hours is a stretch for a film; I couldn't get through Django Unchained without a bathroom break. But this movie hooked me, leaving me wanting to know what was going to happen next with these two. A film about a relationship sounds uneventful to most people, but Kechiche perfectly captures both the joyous new elements of budding love all the way down to the gritty, exposed parts. Three hours actually didn't seem like enough time.
It saddens me to hear that a film like this is being banned from certain theatres and is gaining a reputation for all of the wrong reasons. The story in Blue Is the Warmest Color is told with such honesty about first love and is beautifully acted by both Exarchopoulos and Seaydoux. I admire Kechiche for proving that a story about romance can be both tragic and wonderful, no matter what your sexual orientation might be.