AFF 2013 Dispatch: Inside and Outside the Press Room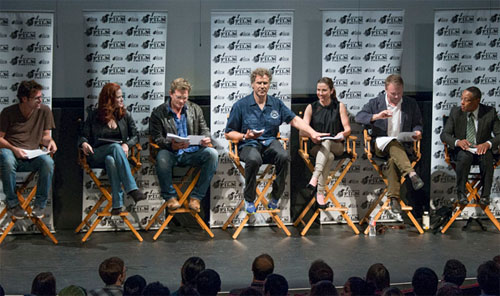 To say I have been all over Austin Film Festival would be an understatement. Although this is my third festival to attend, it is the first year that I have gone as a writer instead of an AFF staff member.
My experience has been a little different than that of my fellow Slackerwood contributors. I kicked off the festival Thursday afternoon in the OnStory Press Room, assisting in taping interviews for the television show's upcoming fourth season. We had a pretty packed schedule over the first four days of the conference, so I wasn't sure how being in that room for the majority of the festival would affect my overall experience.
It ended up being the time of my life. Even though I was just asking a certain set of questions for the show, I got to chat face-to-face with some great writers such as David Lowery, Rian Johnson, Vince Gilligan, Ray McKinnon, Jonathan Demme, Callie Khouri and many others. To hear these filmmakers talk about their process, including the challenges they face in their craft and how they overcome them, was truly inspiring. I may not have attended all of the panels I wanted, but I feel that I took away some very valuable information just from these interviews.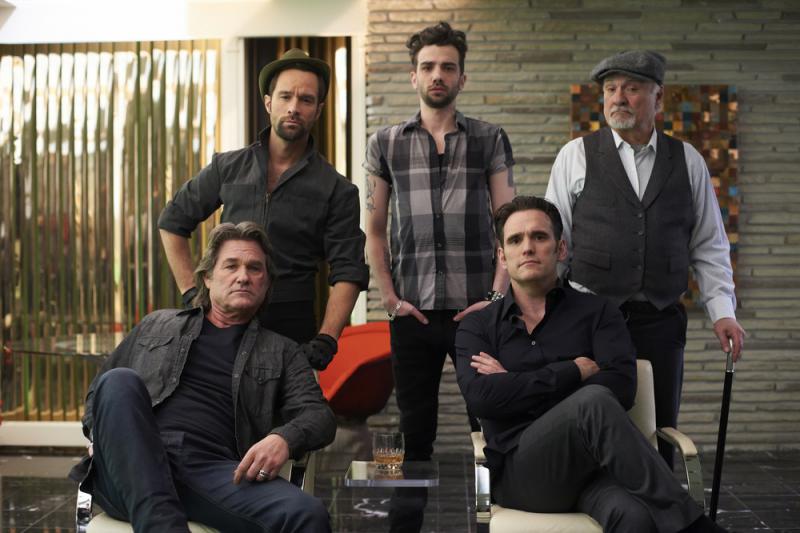 In between press-room duties, I was able to check out The Art of the Steal (pictured above) on Thursday night at the Paramount. I wasn't too sure what to expect, but the fact that it had Kurt Russell and Jay Baruchel in it really caught my attention. This art-heist comedy kept me on my toes, especially for the last 20 minutes with some great plot twists. I was excited to finally get to attend one of the opening-night films, and glad I got to check this movie out on the big screen with a great audience. Sadly, I was too exhausted to attend the Late Night Opening-Night Party, so I called it a night.
Friday left room to attend the "Creating a Television Series" panel, which featured Mark Johnson, Ray McKinnon and Christopher Cantwell. Johnson currently produces McKinnon's show Rectify as well as Cantwell's upcoming series Halt & Catch Fire. The three discussed their interactions with one another inside the writer's room, how the shows themselves came to fruition, and some of the hurdles they had to overcome to get these shows made.
Perhaps the most memorable part of this panel for me was hearing the difference between Cantwell and McKinnon's experiences of getting their shows made: McKinnon had always been fearful of writing, and Rectify was finally his leap of faith -- but it didn't happen right away, even with his status as an actor. Cantwell was a semifinalist in the 2010 Screenplay Competition, and things got rolling for him following that. McKinnon even joked of his jealousy at how "easy" it seems to be going for Cantwell. It just goes to show that there is not one set path when it comes to getting a good script off the ground.
Saturday gave me the opportunity to moderate a panel: "Romancing the Screenplay," which featured Hope Springs writer Vanessa Taylor, The Notebook screenwriter Jeremy Leven, and Sommersby director Jon Amiel. We talked about the challenges a writer faces with writing about such an intimate subject, the frustration of trying to make a character more likeable, and how all three of these writers really are hopeless romantics at heart. I was thrilled and surprised to find that we had a full room for this one, so thank you to everyone who came out for it!
Sunday including the wrap-up of our press interviews, then jumped right into a first AFF experience for me: the staged script reading (pictured at top). I was fortunate enough to assist behind-the-scenes with some of the other staff members. I always remember hearing about all of the work that went into getting such big actors and filmmakers to be a part of this, so to see it in action was really remarkable. The reading itself of Vince Gilligan's script 2 Face was unlike anything I had seen before. Will Ferrell and Linda Cardellini had great chemistry together, as did the rest of the cast. Seeing some well-known supporting talent perform, such as Thomas Haden Church and Giancarlo Esposito, added to the story's comedy and heartwarming ending. I'm glad my conference experience ended on that note.
As much as I'm bummed that the conference itself is over (except for a few final panels), I am looking forward to catching more films this week. And, of course, getting my costume ready for the Closing Night Costume Party.
[Photo credit: "2 Face Script Reading" by De Jong/Dinkins for Slackerwood, all rights reserved.]