Review: All Is Lost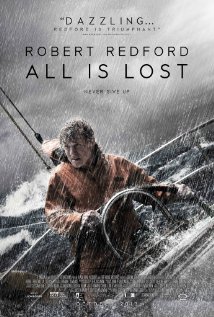 The first time I saw a trailer for All Is Lost, I wondered why Robert Redford had gotten involved in a too-soon remake of Life Of Pi. Of course, once you see the film you'll understand that it's the kind of story best reserved for an audience knowing as little as possible about it going in, and that a marketing trailer has to do its best to entice you without giving too much away. There's no question that this is a challenging film to promote, but it's truly a remarkable work of art that should really be seen on the big screen.
Director J.C. Chandor (Margin Call) doesn't waste any time establishing the story. Redford's character is never named (his official credit is "Our Man") and we don't get any identifying details about his life. He's asleep on his yacht in the middle of the Indian Ocean when he awakens to a crash. His vessel has collided with a shipping container full of shoes and it's taken quite a toll on the stability of his boat. We see him leap into survival mode, and while we don't know anything about his background, it becomes clear that he's a hell of a sailor. He takes command of the yacht and seemingly knows every possible solution to each problem that pops up.
Even though his navigation and communication systems are down, he's able to use nautical maps and tools to chart his approximate location and a course of action. If he can just direct the boat back towards a major shipping route, he'll be able to get help. That is, unless a series of intense storms would happen to rage over the water and further damage the viability of his ship on his cursed voyage.
Redford commands the screen in All Is Lost with a ruggedly weathered face that, even under duress, hides the fact that he's 77 years old. Single-handedly, the actor holds our rapt attention through almost two hours of unforgettable trauma without almost any dialogue. It's a feat that very few actors could pull off, but here it's done beautifully.
While Redford doesn't have any official co-stars, it could be argued that the movie's incredible sound effect design and a subtle but spot-on score by Alex Ebert of Edward Sharpe and the Magnetic Zeros more than make up for the lack of other humans on-screen. These elements engage, delight and even frighten us in ways that you'd expect from a great supporting role.
As far as what happens on Our Man's journey, it's a thrilling ride that you just have to take for yourself. I actually had the opportunity to see this film in mid-September, several weeks before I saw Gravity. At the time, I walked out of the theater feeling like I had seen one of the best movies of the year, but I wasn't sure what kind of audience it would attract. It's easy to see the films now as solid companions for each other, although All Is Lost is a considerably more minimalist story of survival. One thing is certain: these are both stories that inspire Redford and Bullock to do their best work in years.