AFF 2013 Dispatch: Accidental Theme for the Night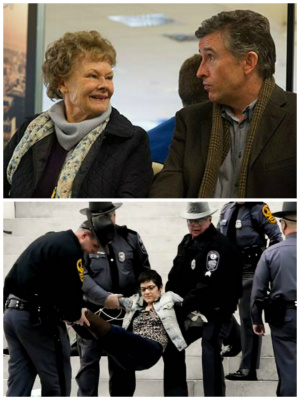 After voting early on Thursday, I went to the Alamo Drafthouse Village for the first night of the Austin Film Festival. Arriving 40 minutes before the 7:30 screening, I was #50 in the badges line for the marquee screening of Philomena. Obviously, many Austinites thought the Village theatre would be a safe choice for Thursday night... but besides the badges, not many of the attendees with film passes got in. The room was packed.
This new Stephen Frears drama (with comedic elements) stars Judi Dench as an Irish woman yearning to know what happened to the son she birthed 50 years ago. He was born in her teenage years at a convent where she was forced to work as he was put up for adoption. Former political figure Martin Sixsmith (Steve Coogan) decides to aid her in her search as he works on a human interest story about it.
Based on a true story, this heart-rending film had me tearing up minutes before Dench would make a comment that would crack me up. Philomena has a refreshing message of mercy, along with a clever script that makes much of the class differences between Martin and Philomena.
I realized as I raced to my car and hurriedly drove to the Texas Spirit Theatre that Philomena and the next film on my schedule, Political Bodies, share a commonality: Both films have to do with reproductive decisions. A teen in mid-20th century Ireland, knowing nothing of birth control, Philomena's choices during her pregnancy were very limited. And if conservative Republicans have their way in Virginia, options for the women of that state will be similarly limited... in 2013.
Political Bodies follows the players in the 2012 battle for reproductive rights in Virginia, from GOP lawmakers to women who run the clinics affected by legislation. Abortion provider Shelley Abrams talks of attacks the clinics had to prepare for in the past and says that currently "the assault has come from our own government."
The music accompanying the real-life drama onscreen is periodically tinny, the camerawork is shaky at times and there are some strange editing decisions here (long fades-in mean that someone is speaking during a black screen). However, I found the documentary fascinating, especially given the recent political happenings in our own state.
Director Christopher Englese told us afterwards that he chose Virginia because he wanted to cover a red state transitioning to a purple state (although state lawmakers were mostly Republican, Virginia elected Obama in 2012). He said he hoped that people leaving Political Bodies would take away that "things can change."
You can catch Political Bodies at 4 pm on Wed., Oct. 30 at Alamo Drafthouse Village [Festival Genius].