Review: Shepard & Dark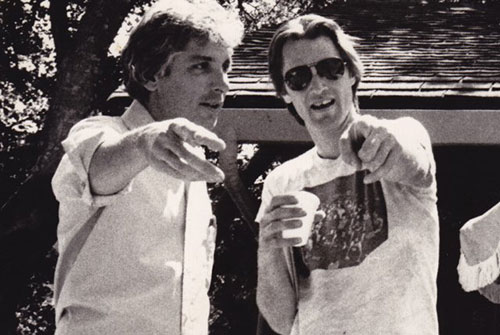 As much as I'd admired Sam Shepard as an actor for decades, I was not familiar with his writing until I read a collection of his short stories, Cruising Paradise. This anthology of 40 short tales written between 1989 and 1995, set mostly in remote reaches of the U.S. and Mexico, depicts the loneliness of a man who grew up in with familial discord brought on by alcoholism. Some of the stories are fictional, but several come straight from Shepard's personal diary.
The poignant documentary Shepard & Dark by filmmaker and part-time Austinite Treva Wurmfeld reveals even more of the life and loves of Shepard, told through both personal interviews and archival footage and letters exchanged between himself and Johnny Dark. The pair met in the Sixties during an off-off Broadway play in Greenwich Village that Shepard had written. One playwright from California, the other an odd-jobber from Jersey City, talked about their childhood of airplanes and dogs and found a connection when they shared stories of their fathers.
The two became best friends, and even relatives when Dark married an older woman named Scarlett and Shepard married Scarlett's daughter, O-Lan Jones. In 1973, the unconventional family moved in together, living for years in a communal household. Scarlett suffered a brain aneurysm and the family banded together as caretakers, but Shepard broke the family apart for his romance with Jessica Lange. Dark took care of O-Lan and Shepard's son Jesse.
Shepard & Dark documents the reunion of the pair in 2010 when they are brought together to work on an archival project for the Southwestern Writers Collection -- a part of San Marcos' Texas State University's Witliff Collection -- to release a collection of their decades of correspondence. The ease at which the men interact and joke makes it seem as if they've spoken regularly, but there are still thinly veiled comments that expose the pain and hurt simmering below the surface. Shepard is reflective as he reads over letters, recognizing the deterioration of his romance with Lange and its impact on his creativity.
Just when Shepard & Dark seems like it could stand a bit of trimming, Wurmfeld effectively captures a twist that abruptly changes the mood and path of the story. Without revealing a spoiler, suffice to say that there is more story to be told in this long and odd relationship between two men that obviously are of great importance to one another.
The cinematography, also handled by Wurmfeld, provides a very personal view of the film's subjects with close shots and view of Dark's small-town life in Deming, New Mexico. Dark's extensive archive of photographs, postcards, and Super 8 home movies are all interwoven through the skillful editing of Sandra Adair (Bernie, Before Midnight), offering a well-constructed history of Shepard and Dark's relationship. The score for Shepard & Dark by local composer Graham Reynolds, recorded with Buzz Moran at Red House Studios, is well suited for this film. The song selection interplays nicely with both Shepard and Dark's own brief musical interludes in this film.
Shepard & Dark opens Friday in Austin at Violet Crown Cinema, and is also available through video on demand and on DVD. The DVD extras include deleted scenes, as well as interviews with Shepard on several topics including Oedipus Rex, but it is the intimate interview with Dark about his communication with Scarlett that is most intimately touching. I also enjoyed "7 Things I Learned From You," a humorous exchange of advice between the pair. My favorites include "#5 - Keep driving even if you forget where you're going" and "#6 - Never stay more than 30 seconds once you realize you don't wanna be there."
Austin connections: Writer/director Treva Wurmfeld lives in Austin part-time, and associate producer and editor Sandra Adair also resides in Austin. Austin-based Graham Reynolds composed the musical score.