Polari 2013 Dispatch: 'Bwakaw' and 'Vagina Wolf '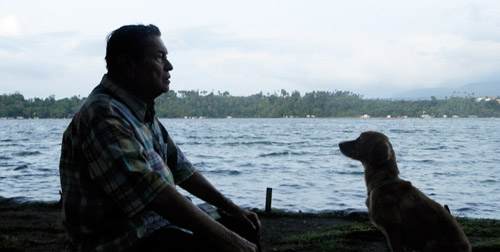 The bond between people and their dogs has inspired many movies. Among the best of them is the Filipino import Bwakaw, a gentle and well-crafted film that was a great way to start Polari's final day. Only a handful of people attended the screening, but what else would we expect at 11 am on a stunning fall Sunday? For a film festival, the only thing worse than bad weather is perfect weather.
The Filipino entry for Best Foreign Language Film at the 2012 Academy Awards, Bwakaw is an insightful and touching story about growing old. The titular Bwakaw is a slightly scraggly pooch who belongs to Rene (Eddie Garcia), a grumpy gay septuagenarian who came out late in life and thinks Bwakaw is the only company he needs in his small Filipino town. The ailing Rene has decided it's too late in life for love or companionship and spends his days waiting for death; he's bequeathed his possessions to his handful of friends, bought a coffin and packed up most of his household.
Rene's perspective changes when Bwakaw unexpectedly takes ill; ignoring his own mortality for the moment, he focuses on caring for his faithful dog. He also reconsiders his solitary lifestyle when he befriends taxi driver Sol (Rez Cortez), a younger man who triggers romantic feelings Rene hasn't felt in years.
The ensuing events make Bwakaw an appealing tragicomic film, as Rene lives life more fully and reconnects with his feelings. The pacing may be too slow for some viewers, but it's well suited to the rhythm of life in Bwakaw's leisurely tropical setting. Despite the themes of loss and mortality, the film's tone is hopeful and optimistic, and there is plenty of humor. (Rene's flamboyantly gay friends are over the top sometimes, but they're very funny.)
Bwakaw has much going for it, but its highlight is Garcia's outstanding performance as the crotchety Rene. He's both the grumpiest of grumpy old men and a sensitive, compassionate friend and caregiver. He cracks wise when trading insults with his cross-dressing friends at the local hair salon, but is entirely sincere when spending time with an old girlfriend who has slipped into dementia. Not surprisingly, Garcia's performance won him several awards in the Philippines and international film competitions. (Bwakaw also won more than a dozen well deserved awards.)
Bwakaw is easily the best movie I saw at Polari, a terrific film that deserves an audience beyond the film-festival circuit. (It's apparently not available online, and there are no plans for a U.S. theatrical release.)
After the gentle triumph that is Bwakaw, I was greatly disappointed with my final Polari film, the irresistibly titled Who's Afraid of Vagina Wolf. Despite its intriguing premise -- a struggling filmmaker helms an all-female version of Edward Albee's iconic play Who's Afraid of Virginia Woolf -- the film misses its marks as a romantic comedy, parody of Albee's play and commentary about the indie film business.
At the center of Who's Afraid of Vagina Wolf is Anna (Anna Margarita Albelo, also the film's co-writer and director), a dedicated but mostly unsuccessful indie filmmaker whose career and love life have stalled as she celebrates her 40th birthday. (Her current artistic outlet is a performance art gig in which she wears a vagina costume.) Broke, lonely and living in a friend's garage, Anna finally finds the inspiration for a new project: a remake of Mike Nichols' film version of Who's Afraid of Virginia Woolf with an all-lesbian cast. Anna sees the film as a career boost and a way to win over her new crush, gorgeous art student Katia (Janina Gavankar), who will star in the production.
Anna also recruits her friends Penelope (Guinevere Turner) and Chloe (Carrie Preston) to star in the movie. She rounds up a willing crew of volunteers -- there is no budget to pay anyone -- and filming begins in her roommate's house. (Knowing it's easier to ask for forgiveness than permission, Anna doesn't ask for the latter.)
Not surprisingly, the production does not go smoothly. Beyond the usual creative differences, Anna's obvious crush on Katia creates tension on the set. Cinematographer Julia (Agnes Olech) develops a crush on Anna, who doesn't notice because she's so obsessed with Katia. (The feelings aren't mutual.) The cast and crew spend as much time squabbling as filming, and eventually the project collapses under the weight of infighting, affairs and jealousies.
Who's Afraid of Vagina Wolf's premise should be the stuff of a great satire about making movies, but the film doesn't really work. The jokes aren't very funny; the film's absurdist humor is more absurd than humorous. And while the Who's Afraid of Virginia Woolf film-within-a-film parody is a clever conceit, it's executed unevenly. The joke likely will be lost on viewers who haven't seen the play or the original film, which was released in 1966. (This would mean most viewers.)
Who's Afraid of Vagina Wolf's other major problem is that it can't decide whether it's a satire or a romantic comedy. As the latter, it's not very interesting or believable; most of the characters are one dimensional, and there is no romantic chemistry between any of them. They're dull and annoyingly self-absorbed, coming across as shallow people obsessed with dating and sex. They -- and the film -- would be much more interesting if they focused on filmmaking rather than hooking up.
As a fan of satire and parody, I wish Albelo's film were as interesting as its concept. But with a weak script and misguided focus on romance, Who's Afraid of Vagina Wolf never develops the film's ideas or generates many laughs. Edward Albee's masterful work deserves a far better skewering.