Film on Tap: Austin Takes the Gold and Beer Week Begins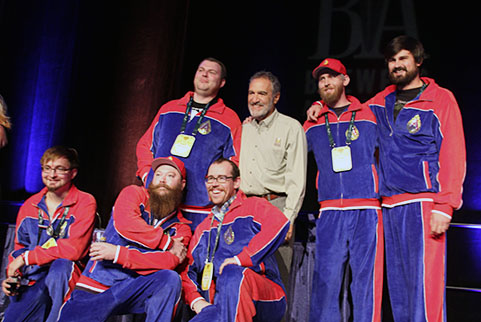 Film on Tap is a column about the many ways that beer (or sometimes booze) and cinema intersect in Austin.
Over 49,000 beer enthusiasts descended upon Denver, Colorado for the Great American Beer Festival (GABF) earlier this month, and Texas craft beer was well-represented. This year's festival competition featured 732 breweries from around the United States entering 4,809 brews to be judged and distinguished as the best of American craft ales, lagers and specialty libations. Texas brewers received 10 awards this year with four gold, two silver and four bronze medals, including a gold to Austin Beerworks (seen at top with Brewers Association President Charlie Papazian) for their Black Thunder German-style schwarz beer.
In addition to Texas brewers, several Austin film-related projects and businesses took part in the festivities surrounding GABF. Alamo Drafthouse's Beverage Director Bill Norris and Creative Director John Gross made the trip to Denver, with Gross moderating "The Business of Fun: Beyond The Beer" panel. North by Northwest founder Davis Tucker was on the panel along with representatives from Odell's Brewing and Oskar Blues, discussing how craft beer goes beyond just drinking and brewing and supports many other business sectors including marketing and design.
Tucker's "1400 miles in 14 days" trek by bike to Denver for GABF culminated the day prior to his panel appearance with a welcoming party for the 1400 Miles cycling team and film production crew at Black Shirt Brewing (BSB). After watching the beer-related documentary Crafting A Nation at several screenings in Texas, I felt like I already knew featured BSB co-founders Branden, Chad, and Carissa Miller and adored the music-related tap board and wall decor.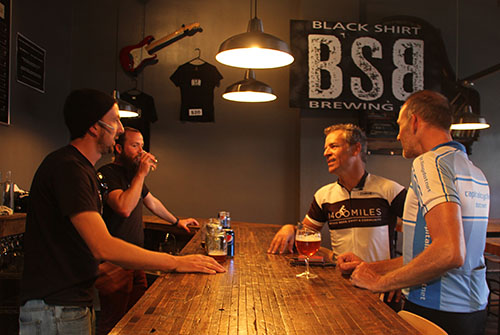 The event also provided an opportunity for Crafting A Nation subjects Chad and Branden Miller as well as Tucker to meet for the first time (seen above), adding a touch of surrealism to the occasion.
Now that everyone's settled back in from GABF, local brewers are preparing for the next big events in October. Hundreds of brewing industry professionals from around the world will be in Austin October 23 - 26 for the Master Brewers Association of Americas (MBAA) annual conference, which features four days of technical workshops and sessions. Don't be surprised to see Off-Centered Film Fest host Sam Calagione at a local craft-beer bar.
Hopefully many of these special visitors will extend their visit for Austin Beer Week 2013, featuring hundreds of events from October 25 - November 3. On Friday, October 25, you can enjoy lunch while witnessing a behind-the-scenes recording and interview of Black Star Co-op Brewmaster Jeff Young for a special episode of Locapour, a web-based show about locally brewed craft beer. Young will talk with host Mike Langford about Black Star's unique brew, Dr. Vainglory. The episode will feature food pairings, which will be available as food specials during the recording.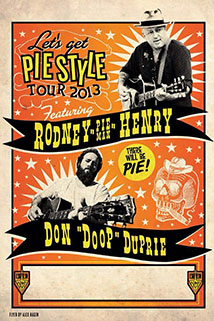 Later that day the "Lets Get Piestyle" tour featuring 2013 Food Network Star runner-up Rodney Henry and Don "Doop" Duprie stops off at South Austin Brewing Company for an evening of pie, beer and music beginning at 5 pm. In addition to a performance from the Pie Man himself, Henry will offer up some of his world famous sweet and savory pies, and South Austin Brewing will be tapping a special batch of Piestyle ale with fresh strawberries and roasted rhubarb.
Independence Brewing Company hosts a special screening of Crafting a Nation on Friday, October 25, to kick off their Austin Beer Week events. This documentary features craft breweries from across the country that are "striving to not only create unique and American-made but that are also committed to the improvement of the quality of life despite the odds faced by the economic downturn." The Independence tasting room will open at 4 pm, and the movie screening will begin at 6 pm. Ticket price includes a pint of Independence Brewing's hand-crafted brews.
On October 28 at 7 pm, the Alamo Drafthouse Lakeline presents a Fear and Loathing in Las Vegas Beer Dinner for $50 a person. Chef Trish Eichelberger has crafted a complimentary menu of delicious courses paired with local craft brews to enjoy while watching Terry Gilliam's adaptation of Hunter S. Thompson's tall tale of journalist Raoul Duke (Johnny Depp) and lawyer Dr. Gonzo (Benicio Del Toro) as they take a drug and booze-filled trip to Las Vegas. The food and beer pairing includes:
Shrimp Cocktail "Shooter" Smoked Tomato Water, Vodka -- paired with Hops & Grain Fresh Hop Oktoberfest
House-Cured Salmon & Grapefruit Salad Brown Butter Vinaigrette, Fennel Pollen -- paired with Independence White Rabbit Wit
Samoan-Style Pork Meatballs Creamy Coconut Sauce on "Drunken Noodles" -- paired with Rogness Porter Ost with Coconut
Molten Chocolate Cake White Chocolate Ganache, Citrus -- paired with (512) Five Imperial Stout
Beer and film fans have two opportunities during Austin Beer Week to see Beer Hunter the Movie: The Story of Michael Jackson, a documentary film about the beloved and influential beer and whiskey journalist. Jackson's books on beer and whiskey have sold millions of copies world-wide, and his 1993 Discovery Channel television series, "The Beer Hunter," inspired countless brewers and beer enthusiasts and literally helped shape the course of the craft brewing revolution.
The film features unused footage from Jackson's travels to beer meccas including Belgium, the Czech Republic, Ireland, and California, along with interviews with some of today's leading brewing industry icons including Charlie Papazian. The story also chronicles Jackson's private struggle with Parkinson's Disease. Be sure to check out this documentary at either Uncle Billy's Brew & Que on October 30, 7:30 pm or at Rogness Brewing Company on November 1, at 6 pm. Both screenings are free, and at the Rogness Brewing screening $1 from each pint sold in the taproom will be donated to the Michael J. Fox Foundation.
Speaking of charitable and community-related events, Flix Brewhouse has a couple of upcoming events of interest. On Tuesday, November 5, Flix's Bro & Brews special screening of Gangs of New York supports Movember, an annual event supporting men's health.
Flix has also changed up the procedure for their quarterly rolling pro-am homebrew competition. The competition is now open to any Austin area homebrewers who would like to enter regardless of whether or not they are a member of a local homebrew club. The next style is the Belgian Dubbel, and the entry deadline is December 13, 2013. The winner will get the chance to brew their recipe with Flix Brewhouse Brewmaster Justin Rizza, and get their beer on the tap wall.
[Photo credits: Austin Beerworks Team with Charlie Papazian, Black Shirt Brewing Brewers with Davis Tucker, by Debbie Cerda, for use with accreditation]