Review: About Time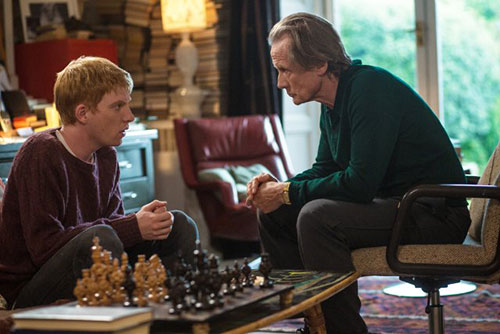 From Aristotle to Einstein to Hawking, much debate has occurred over the structure of time and the possibility of time travel. If time travel were possible, where would you go? More importantly, how do you prevent the paradox of destroying your own identities -- or the worse fate of your own existence and others -- in the process?
The most widely talked-about moments in time to change often leads to an assassination of Hitler or saving of the Titanic. But a more personal use drives the time-travel paradigm in the romantic comedy About Time by writer/director Richard Curtis (Love Actually, Notting Hill). On his twenty-first birthday, lovelorn Tim (Domhnall Gleeson) receives extraordinary news of a special gift shared by his father (Bill Nighy). The men in their family have the ability to travel through time within their own lives -- "You can't kill Hitler or shag Helen of Troy" -- Tim decides what he wants most is a girlfriend, so he sets forth to secure the love of his life as he begins his professional career as a lawyer in London.
One fateful night, he meets and becomes enamored with the beautiful yet insecure American girl Mary (Rachel McAdams), but his use of time travel to resolve a failed performance for his landlord and playwright Harry (Tom Hollander) results in unintended consequences. It is as if he and Mary have never met, and he must find a way to place himself in the right moment to win her heart. However, his efforts impact the lives of his loved ones, including his sister Kit Kat (Lydia Wilson), and he is faced with the critical decision of letting those he cares about most learn life's lessons on their own.
About Time is a delightfully inventive love story not just about a romance but love for family. The father-son drama between Nighy and Gleeson plays quite nicely, and Nighy is superbly understated in his performance as a time traveler content to spend his time reading beloved books again and again. The pain that Tim experiences as he witnesses his sister Kit Kat's downward spiral into alcohol-induced depression is very real, as is the pity and love for his simple-minded Uncle D (Richard Cordery).
Films about time travel often fail or are criticized -- not simply because of the implausible concept but more so due to the failure to adhere to their own created paradigms. There are a few minor flaws in the movie's storyline, but the heart and soul of those moments are so well dramatized that I was able to forgive, wholly embracing a suspension of disbelief.
The characterization and casting of About Time is well done, although the implied mousiness of McAdams is not fully believable. Despite that minor flaw, the personal interactions between the cast are exemplary, including supporting actors Will Merrick as Tim's best mate Jay and Lindsay Duncan as Tim's mother. The cinematography and art design elegantly capture the subdued life in Cornwall and the urban atmosphere of London. I adored the vintage wardrobe McAdams wore, as well as the costume design for the rest of the cast including Kit Kat's purple "flower child" ensembles.
About Time is not just another chick flick, but rather my number-one date-night selection for 2013. I would argue in favor of this cinematic gem being a "must-see" for men even more than women. Don't miss an opportunity to view this romantic and comedic drama soon -- I plan on watching this film again as soon as possible with my loved ones.