Polari 2013 Dispatch: Reaching for the Moon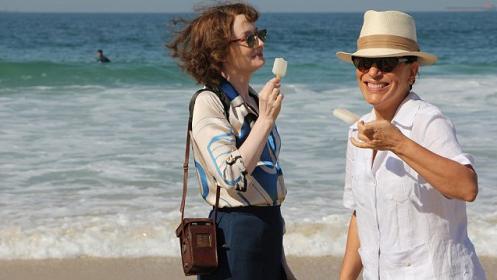 Downtown Austin is a crowded, parking-challenged place these days, so I gave myself plenty of time to get to the Stateside Theater for a Thursday night screening of Reaching for the Moon at Polari.
But there was no need to arrive so early; it was a slow night downtown, with a sane amount of traffic and plenty of parking near the Stateside. It also was a slow night at the film festival, with no lines and a modest crowd in the theater.
The Reaching for the Moon audience saw a lush, beautiful film based on the true story of the longtime romance between American poet Elizabeth Bishop (Miranda Otto) and Brazilian architect Lota de Macedo Soares (Glória Pires). But for all its lavish production values, Reaching for the Moon is a rather lifeless take on what should be an interesting story of a taboo relationship.
The two women meet in 1951 when struggling poet Bishop travels to Brazil to visit a college friend, Mary (Tracy Middendorf), who is Soares' partner. Bishop intends to stay a couple of weeks, but a whirlwind romance with Soares changes her plans. Soares is so smitten with Bishop that she ends her admittedly hollow relationship with Mary. She makes Mary a callous offer to buy her the baby she always wanted (this equates to an adoption in rural 1950s Brazil) and, curiously, allow her to keep living in Soares' home if she'll walk away from the relationship.
Mary takes Soares up on the offer, and she, Soares and Bishop enter into an odd and often awkward living arrangement. The baby girl's arrival makes things even more difficult at first, but the baby-averse Bishop soon warms up the girl. Bishop and Mary grow to be civil if not friendly housemates, and the film follows their unlikely arrangement for more than 15 years as Bishop and Soares' careers grow in stature, and Brazil undergoes sweeping political changes.
The story is as farfetched as it sounds. Based on the novel Flores raras e banalíssimas (Flowers Rare and Commonplace) by Carmen L. Oliveira, Reaching for the Moon is a heavily fictionalized account of Bishop and Soares' relationship. As such, much of the story is hardly believable, even the parts that are essentially true.
Compounding our disbelief is the lack of chemistry between the two leads. Bishop and Pires develop few romantic sparks, as if they're just going through the motions of passion and emotional connection. Their romantic scenes are curiously reserved and chaste, although the scenes are so frequent that it seems Reaching for the Moon's raison d'être is to show two women kissing and washing each other's hair. There are moments of turmoil, but even these are tepid, and the film's overall tone is understated, cautious and low key.
Bishop and Pires deliver generally competent performances, but their delivery is sometimes stiff and workmanlike, and they can't overcome their chemistry deficit. Whether they're miscast or just not inspired to display genuine passion, they're not very appealing in their roles and do little to make us care about the characters.
One aspect of Reaching for the Moon works quite well, however: It's a sumptuous affair with terrific cinematography and no shortage of style. Set against stunning Brazilian backdrops, the film contrasts the rustic settings with its characters' trendy, très chic mid-20th century lifestyles. Everyone is cultured, fashionable and flawlessly coiffured, drinking the finest wines and hobnobbing at elegant parties with the political and literary elite, especially as the story progresses and Bishop becomes a poet of great renown.
But while the stylish Reaching for the Moon is a movie I wanted to like for its beauty, high culture and historical significance, it's so dull and emotionally unengaging that it never grew on me. Which is unfortunate, because Bishop is hailed as one of America's greatest poets; she's a passionate woman whose story deserves an equally passionate treatment.