Polari 2013 Dispatch: Five Dances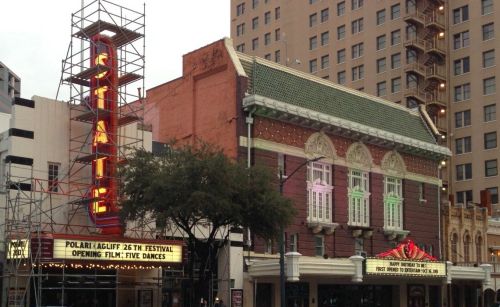 The first day of Polari (formerly aGLIFF) happened to coincide with the birthday of the Paramount theater last night.
Opening night found a nearly full house at Stateside Theatre for Alan Brown's award-winning Five Dances. First, however, creative director Curran Nault took the stage to open the fest and along with interim executive director Aaron Yeats and board Vice President Paul Soileau (aka Rebecca Havemayer, aka Christeene), reminisced on the contributions aGLIFF founder Scott Dinger. They announced that henceforth the festival's audience award will be officially known as the Scott Dinger Audience Award.
Five Dances is a sultry, sexy meditation on familiar themes of a rural boy coming to terms with his sexuality after leaving home for the city. Set to a soundtrack rich with cello by Private Romeo composer Nicholas Wright, and interspersed with crooning jazz tunes by Scott Matthew, Gem Club and Perfume Genius, five young attractive supremely talented modern dancers practice and perform a composition in five movements by choreographer Jonah Bokaer as Brown's camera lingers, capturing every form, every curve, the subtle shadows cast by every muscle.
Broadway dancer Ryan Steele stars as 18-year-old Chip, newly arrived from Kansas to study but still tied down by family problems back home. Like a time-lapse film of a flower as it opens in bloom, Five Dances is a moving snapshot of this transitional period in Chip's life as he begins to make his life in New York and come to terms with suppressed desires. As such, the audience is left wanting just a bit more, as after a passing glance with an attractive stranger.
Five Dances, however, is a mood film in which volumes are told in dance when few words are spoken aloud. Bokaer choreographed the dance before the story was written and with no music in mind, but Brown skillfully weaves his story around and through the movie -- capturing the sensuality of movement, bottling it, then shaking it up and letting it explode as it will, sweeping the dancers along with it.
During the post-film Q&A, Brown announced that distribution will be handled by Wolfe Video, so Five Dances will be available on DVD and VOD next year.