Interview: Robert Rodriguez and Danny Trejo, 'Machete Kills' (Part Two)
Continued from Part One, here's the rest of my interview with Austin filmmaker Robert Rodriguez and Machete Kills star Danny Trejo, pictured above at the Fantastic Fest red carpet with actress Alexa Vega.
Slackerwood: It seems like you enjoy revisiting your characters in multiple movies -- why do you think you want to keep bringing the characters back?
Danny Trejo: Well, they're good actors.
Robert Rodriguez: I was very much inspired by George Lucas. He wanted to do a Flash Gordon movie, but couldn't get the rights, so he wrote his version instead, which is called Star Wars. I thought, that's such a cool thing. Instead of going and doing a James Bond movie, go and make your own James Bond series, and put things in it that you love -- base it on my family, call it Spy Kids. Or do a guitar-player series of movies.
You know, actually El Mariachi was designed to be a low-budget series, so I started with the genesis in the very first movie. He doesn't become the guy with the guitar case full of weapons until the last scene in the movie. Spy Kids -- they don't become "spy kids" until the last scene in the movie. And Machete doesn't really become that iconic icon holding up the machete and leading the people until the last scene of the movie.
So if you stopped there, the audience has a lot of story value left. They can imagine other adventures because it's only the beginning. So it was a natural that if the movie did well, you could kind of pick up and keep going, because it's really all genesis, it's all setup. I think that's why I've been able to create, now, three franchises -- I didn't create Sin City, so I don't count that one -- but that's the same kind of thing. I designed that movie in a way where you would want to see more.
Trejo: And as an actor, you want to be in the next one. Everybody that's been in one -- wow, what's the next one gonna be like? I had a lot of fun doing it.
Are there characters you've played that you wish you could play again?
Trejo: Machete. [laughs] You never know what you're coming up with. This time, I kill a bunch of people with a boat. So it just keeps going further and further and further. Next time: Machete Kills. Again. In Space. So that's fun.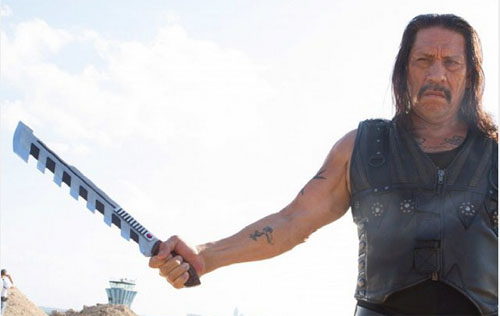 Are there characters you want to come back to, that you haven't?
Rodriguez: I would go back to just about any characters. I would love to do sequels to some of the other movies. My characters in Roadracers, I always liked that character. I liked the characters in Grindhouse.
I'm going back now and doing From Dusk Till Dawn again. So that's taking those characters that are very rich and doing a whole ten-episode series out of them. Because Quentin [Tarantino]'s characters are like, the best. These characters that we co-created, took on a very iconic life. And they're rich for continuing storylines.
Are there any Austin locations where you shot Machete Kills that we would recognize in the movie?
Rodriguez: For Mexico, we shot in this whole area off Pedernales Street, we turned it into our Mexico set. We shot a lot outside of town to look like the desert areas, and a lot at my studio.
One thing I noticed about this movie is that it does not "portray Texas in a negative light" in a way that might create a Texas film incentives problem. Are you planning to apply for film incentives this time?
Rodriguez: No, we didn't need to.
Trejo: I don't think the last one did either.
Rodriguez: Had I know that controversy would have happened -- along with Arizona at the time, immigration issues and everything happening in Arizona -- oh man, why didn't I just call it Arizona instead of Texas? Because -- well, we had the Capitol, and everything. But I'm so full of Texas pride, I want everyone to know I shoot in Texas. Everything's always Austin, Texas.
What do you like about shooting in Austin?
Trejo: Oh, the people. It's so warm. It is such an unbelievably movie-friendly city. Austin, when you're shooting on the street, you have a crowd, they all want to see. It's fun. Austin's a fun place anyway. Movies add a lot to the economy of a city and I think they understand that.
To wrap up, what are you working on now?
Rodriguez: Sin City 2, and then the network, I have a television network [El Rey]. I'm doing From Dusk Till Dawn, at first.
Trejo: A TV series with George Lopez called Saint George. I have a film coming out called Badass 2 [aka Bad Asses]. Dead in Tombstone, which is a cowboy movie, which I've always wanted to do, and Bullet. And I did the Muppets [Muppets Most Wanted], we shot that in England.
And then my next movie will probably be with Robert Rodriguez -- he likes me, thinks I'm a great actor. What do you want to do next, Robert?
[Photo credit: "Machete Kills red carpet" by Jack Plunkett, used with permission from Fantastic Fest.]