TAMI Flashback: Texas in the Civil Rights Era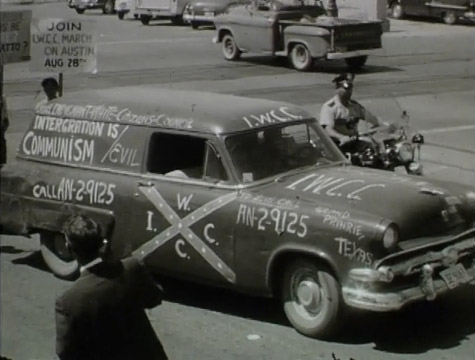 This article is the second in Slackerwood's second series about the Texas Archive of the Moving Image (TAMI) video library. For an overview of the TAMI site, refer to this article in the first series.
"You're not a Texan unless you're for segregation." –-- Indignant White Citizens Council leader Bobby Joiner
Although Texas cities weren't as newsworthy as Little Rock, Selma or Birmingham, the state was very much a battleground during the civil rights era. This TAMI Flashback article highlights three intriguing videos about the fight for racial equality in Texas. One is a slickly produced film about desegregation in Dallas. The others aren't slick at all; they're collections of raw news footage shot in Austin -- and they're far more powerful statements about race relations in Texas.
Dallas at the Crossroads is a film with noble intentions. In 1961, a federal court ordered Dallas to desegregate its schools. To discourage the violent opposition that happened in other cities, the Dallas Citizens Council produced Dallas at the Crossroads to defuse racial tension and encourage Dallas citizens to accept desegregation peacefully.
Narrated by Walter Cronkite (who grew up in Houston and attended The University of Texas at Austin), Dallas at the Crossroads features prominent Dallas citizens who implore the audience to respect the rule of law and set good examples for their children. The film includes dramatic footage of violent protests in Little Rock and New Orleans, followed by testimonials from doctors, lawyers, business leaders, civic officials and clergy, all serving as voices of reason. (For those who refuse to be reasonable, the film promises that troublemakers will be arrested.)
Dallas at the Crossroads' heart is in the right place, but like so many TAMI videos, it's an odd little film. The first quarter presents Dallas as a wonderful place full of happily procreating suburban families. Most of the film's speakers are unidentified; either they were prominent enough for Dallasites to recognize them, or they didn't want their names attached to an undoubtedly controversial movie. And the film ends with a hollow appeal to patriotism, complete with children saying the Pledge of Allegiance, visuals of soldiers and American flags, and a soundtrack of "America the Beautiful." All very nice, but did these patriotic images really promote racial tolerance?
The oddest thing about Dallas at the Crossroads is that everyone -- everyone -- in it is white, even in the protest footage. The producers may have thought the film would appeal to its target white audience only if prominent white citizens delivered the message. On the other hand, maybe Dallas at the Crossroads is just as segregated as everything else in Dallas at the time.
[View original at Texas Archive of the Moving Image.]
The verbosely titled Austin City Council Regular Meeting on Civil Rights is a collection of raw footage of an Austin City Council meeting on April 16, 1964, shot by famed Austin TV news cameraman and filmmaker Gordon Wilkison. Best known for capturing the UT Tower shootings in 1966, Wilkison and his camera witnessed many important moments in Austin history.
The meeting footage is somewhat crudely shot and often silent, but it captures the raw emotions of the moment and the times. As the city council listens, civil rights activists and other Austin citizens voice their concerns about the city's lack of civil rights progress. Austin was still largely segregated at the time, and the speakers' frustration is obvious; things get so heated that police are shielding the council from the citizens. Police also forcibly remove one speaker, Southern Christian Leadership field secretary Booker T. Bonner.
Austin City Council Regular Meeting on Civil Rights features two prominent Austinites whose names are still familiar: Emma Long and Ben White. Today's Austinites know of Emma Long Metropolitan Park and Ben White Boulevard; what they probably don't know is that Long and White were city council members. Long, who died in 2011 at 98, was Austin's first female council member, a liberal firebrand who fought for integration and fair housing. White was a popular council member who served 16 years (1951-67); he was so well liked that the council named a planned road in rural South Austin after him while he was still in office. (The humble White abstained from the council vote.)
The video also features Rev. Luther Holland, who fought for fair employment practices and founded the first Austin employment agency for African Americans. Another speaker is identified as "Juanita Overton"; I suspect she is actually Warneta Overton, wife of famed Austin civil rights leader Volma Overton, the Austin NAACP president who filed a federal lawsuit to desegregate Austin schools.
Unfortunately, Austin City Council Regular Meeting on Civil Rights includes only brief clips of the activists' testimony. For the complete testimony -- an interesting portrait of life in segregated Austin -- read the meeting minutes.
[View original at Texas Archive of the Moving Image.]
An even more powerful look at River City race relations is Civil Rights Demonstration in Austin. Another collection of Gordon Wilkison's news footage, this video documents an Austin demonstration on August 28, 1963, the same day as the March on Washington.
As in Austin City Council Regular Meeting on Civil Rights, the footage in Civil Rights Demonstration in Austin is a disjointed series of unedited clips, some without sound. But the images are striking. About 600 protesters gathered for a pro-integration parade and rally; specifically, they were protesting Governor John Connally's opposition to civil rights legislation. The parade was a peaceful event with a rally at Austin's Wooldridge Park, and the video features many Austin landmarks along the parade route, including Doris Miller Auditorium, the Texas State Capitol and the old Travis County Courthouse.
Heckling the group were members of the Indignant White Citizens Council, a segregationist group led by Grand Prairie resident Bobby Joiner. Joiner, an avowed racist who later was arrested in Dallas on the day President Kennedy was assassinated, had predicted 3,000 of his fellow indignant white citizens would join him at the Austin rally; only 11 people showed.
Joiner's comments are the usual nonsense about states' rights, racial integrity and communism. He sounds entirely foolish; fortunately, Austin and the nation eventually rejected Joiner's foolish ways, and segregation no longer is the law of the land. But the underlying racism is still very much a part of American life, even in famously tolerant Austin.
[View original at Texas Archive of the Moving Image.]
Editor's note: A quick reminder that Saturday is Home Movie Day, and TAMI is teaming up with Austin Film Society and Experimental Response Cinema to screen movies on 8mm, Super 8 and 16mm at the AFS Screening Room, starting at 1 pm. Bring your home movies to screen and share!