Movies This Week: October 11-17, 2013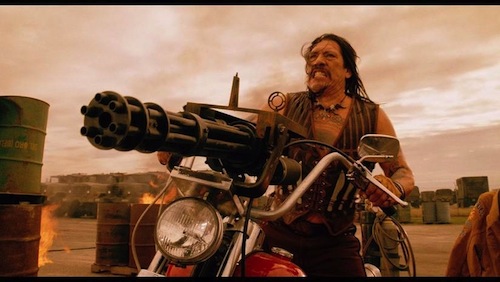 I'll be out at Zilker Park this weekend for the second round of the Austin City Limits festival, but you can avoid the crowds (and potential thunderstorms) by hitting the movies. For those of you who missed out on Fantastic Fest this year, take note that several of this year's titles are opening or being featured with select screenings in town over the next week.
I am truly saddened that ACL is going to keep me away from Austin Film Society's 35mm booking of Peeping Tom, but it's one that you won't want to miss. It's the movie that basically destroyed Michael Powell's reputation upon release, but has since gone on to be recognized as one of the greatest thrillers of all time. It's playing tonight and again on Sunday afternoon at the Marchesa. An Unreal Dream: The Michael Morton Story had its world premiere at SXSW earlier this year, and on Tuesday night AFS is bringing it to the Marchesa. Director Al Reinert, Michael Morton and Morton's long-time pro bono counsel John Raley will be in attendance for a post-screening Q&A. Kurosawa's High And Low will also screen at the Marchesa in a glorious 35mm print from Janus Films on Thursday night as part of this month's Essential Cinema series.
My top Alamo picks for the weekend are the killer 70mm bookings happening at the Ritz (Star Trek IV and 2001: A Space Odyssey). The downtown location also has a rare 35mm screening of Elaine May's A New Leaf on Monday, Girlie Night serves up Hocus Pocus on Tuesday, and Ricky Jay will be appearing live for a Q&A on Wednesday night for a new documentary about him called Deceptive Practices. Fantastic Fest Presents The Dirties at Alamo Slaughter tonight and tomorrow for late shows. Debbie caught the film at Dallas IFF this year and strongly recommended it in her review. You can also head to Slaughter for a special showing of Robinson Crusoe On Mars tomorrow afternoon to go along with this month's space programming theme.
Also this week: The Austin Browncoats present the Weekend Of Whedon at the Alamo Lakeline, the Texas Independent Film Network has a special screening of Only The Young on Tuesday night at the Violet Crown with co-director Elizabeth Mims in attendance for a Q&A, and locally produced film Pictures Of Superheroes plays at the Violet Crown on Thursday with Director Don Swaynos, Producer Kelly Williams, and actors John Merriman, Kerri Lendo and Shannon McCormick in attendance for a post-screening Q&A.
Movies We've Seen
After Tiller -- This film examines the four doctors left in the country who still legally perform late-term abortions. In her review, Caitlin says that it "is a life-affirming documentary in spite of its subject matter" because it looks at the subject from a compassionate point of view that avoids politicizing the topic. Slackerwood editor Jette Kernion will moderate a special Q&A and discussion on Saturday evening at the 6:20 pm screening at Violet Crown Cinema, presented by the Austin Film Society with Dr. Lee Carhart, one of the doctors featured in the film (via Skype), and Texas Tribune Editor Emily Ramshaw. This is an "AFS Selects" title, so you can show your membership card at the box office or by phone to save $2 on your ticket. (Violet Crown Cinema)
Escape From Tomorrow -- For a truly indie film to break through, you have to have be able to generate good publicity for your film, especially if you can't afford a big marketing budget. Escape From Tomorrow, shot on location at Disney World and Disneyland without permission, certainly has an incredible backstory (although maybe not as good as it could have been if the Magic Kingdom had sought legal action against it). Early reviews have praised its uniqueness, but it seems as though it's definitely a case of "your mileage may vary" with this low-budget oddity. Jette says it "may be worthwhile just to see the Disney setting in this light." Look for her review this weekend. (Alamo Slaughter Lane, also on VOD/iTunes)
Machete Kills -- Robert Rodriguez brings his Grindhouse character back to the big screen with an all-star cast that includes Mel Gibson, Antonio Banderas, Michelle Rodriguez, Jessica Alba, Sofia Vergara, Charlie Sheen and even Lady Gaga. Fresh from its premiere at Fantastic Fest, Don calls it "passable low-rent entertainment" and will have a full review of the action-packed sequel this weekend. (Wide)
Also Opening In Austin
Captain Phillips -- Director Paul Greengrass (The Bourne Ultimatum) adapts this true story of a ship captain who fights for his crew against pirates off the coast of Somalia. The drama has earned rave reviews and is generating award season buzz for lead actor Tom Hanks. (Wide)
Romeo And Juliet (2013) -- Yet another adaptation of the Shakespeare classic, this time around with True Grit's Hailee Steinfeld and a relative unknown named Douglas Booth in the lead roles. (Regal Arbor)
We Are What We Are -- This American remake of a 2010 Mexican horror film also just played Fantastic Fest and is a fairly unlikely booking for the Arbor. RIYL: cannibals, gore, gothic drama. (Regal Arbor)