Vintage Austin Theater Tour: Fox Triplex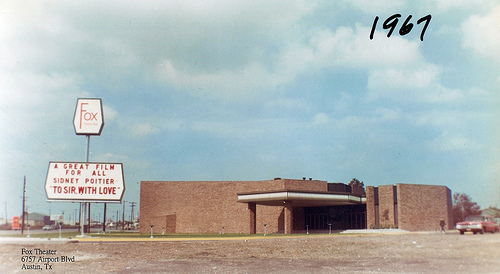 Not many cinemas in Austin can claim to have had an opening night consisting of a true Hollywood red carpet, a gala premiere, high-profile attendees and a movie star or two on hand for its first night of business. Yet the hopes and expectations attached to Austin's then-new Mann Fox Theatre weren't the same as they were for most other movie houses of the time. While most movie theaters aimed to attract local families or groups of teenagers looking for a fun night out, the Mann Fox Theatre sought to make going out to the movies a more upscale affair.
The idea of having the Mann Fox Theatre appear as a grand moviegoing experience was in sharp contrast to Austin's then-current state. By the mid-to-late 1960s, the city had become one of the hotbeds of the counterculture with its share of social unrest, psychedelic drugs and revolutionary musicians who would go on to define the decade. However, Austin's potential as a cosmopolitan city was not lost on Ted Mann, owner of Mann theaters, who along with President Eugene V. Klein, thought Austin was ready for a theatre of Mann quality.
No expense was spared when it came to the Mann Fox's design. The famous L.A.-based Pearson and Wuesthoff architectural firm was brought in to handle the stylish look desired for the theater. There was a curved main screen with gold travelers and rows consisting of bodi-form chairs, while the theatre's projection and speakers were considered state of the art for the day.
The opening night in October 1967 was planned as an event to be remembered. Guests included screen siren Rhonda Fleming, then married to Mann, for a special premiere of To Sir, With Love.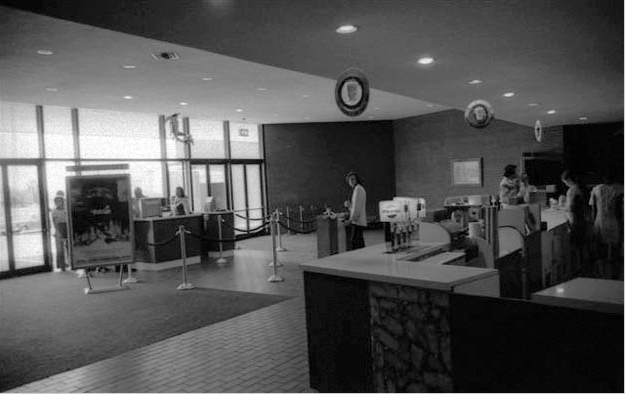 For years after, the Mann Fox Theatre thrived and served the ever-growing city of Austin well. In fact, the cinema proved so successful thatit was converted into a two-screen theater. The move greatly reflected the drastically changing face of Austin, which had grown in diversity and prominence. Theatre officials from all over the country joined many of Austin's most high-profile civic and business leaders for a gala benefit screening of Fiddler on the Roof when the theater was re-launched in the fall of 1972. Once again, the cinema prospered thanks to its ability to offer patrons its trademark upscale brand of moviegoing. A third screen was added two years later.
The success of the newly-renamed Fox Triplex proved so fruitful that it was decided by Mann himself to open up various other theaters around Austin, all of which likewise brought back strong business. For all intents and purposes, the Fox Triplex had indeed achieved its intended goals: to revitalize the moviegoing experience and to be a part of the changing face of Austin.
However, despite having one of the most notable openings and quickest ascents in terms of popularity and reputation when compared to most theaters, the Fox Triplex's glory days were short-lived. When most theaters close after decades in operation, different reasons -- such as faltering audiences or rival cinemas -- are usually to blame. Yet that wasn't the case with the Fox Triplex; it was simply a case of a better offer.
According to Ben Littlefield, Mann's director of real estate, an undisclosed buyer came to him with "an offer that was just too good to turn down." After working out the details, the sale was announced in the Austin-American Statesman on November 2, 1985. Five days later, the Fox Triplex officially shut down after 18 years as one of Austin's premiere movie theaters.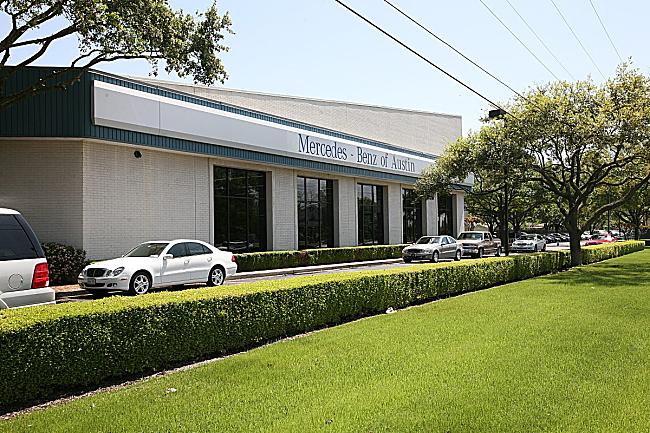 The "undisclosed buyer" was car dealer Bryan Hardeman who felt the building would be an ideal location to launch Mercedes-Benz of Austin. "I was attracted to it because in addition to the building it had six acres of paving which both movie theaters and car dealerships need." Lucky for Hardeman, the circumstances and timing were ideal upon his first meeting with Littlefield. "Mann was getting older and the property values were increasing and were worth more to sell and shut them down, which he did around the country."
When one business comes in after another has departed, it's only natural that the new business should want to make the actual property their own. In this case, that would have meant tearing down the still-attractive looking Fox Triplex and re-building from the ground up. However Hardeman found a way around that: "I was originally going to tear down the building but a creative architect came up with a design that kept the building and we remodeled," he said. "We've been there since 1987 and we are currently doing another major makeover."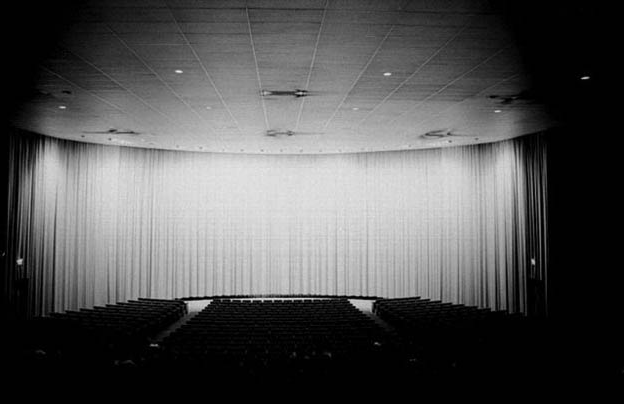 Austin has grown leaps and bounds since the Fox Triplex shut its doors. Even though the once highly regarded theater may be gone, its replacement carries on one of its originally purposes -- furthering the reputation and image of Austin as one of the most metropolitan areas in the country. Any lover of film feels sad when a classic theater closes, especially one constructed with such great care and high hopes. It's also difficult to watch such buildings fall into the dilapidated states they eventually end up in. Thankfully that was never the case with the Fox Triplex. It existed for a short time, but in the minds of every patron it served, it still remains an example of what an exhilarating experience going to the movies can be.
Frank Calvillo is an Austin Film Society apprentice.
[Photo credit: John Stewart. Used with permission (and many thanks!)]