Watch Highlights of 'Dinner with the Danger Gods'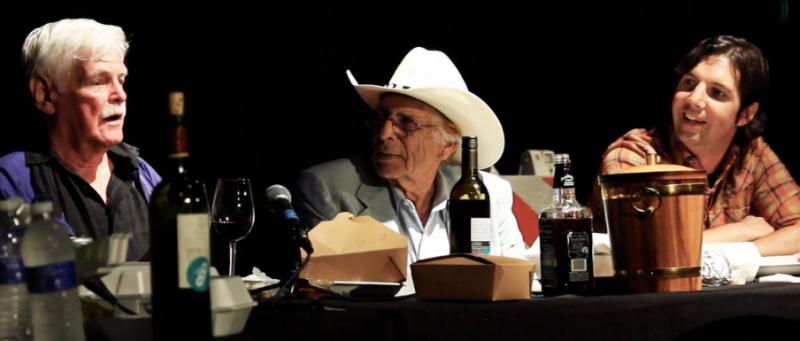 Something happened on September 27 that you should all know about. If you were at the Austin Film Society event "Our Dinner with the Danger Gods," you don't need me to tell you that it was a night for the ages. Those who witnessed it won't forget it. We welcomed a panel of some of the greatest stuntmen in the world to sit down at a table with no prepared material, eat steaks, drink whiskey and tell stories, jokes, lies, whatever. It was an event designed not only for the audience but for the legends themselves.
If you weren't at the event, our friend Brandon Grey filmed it, and it looks beautiful. Zack Carlson, who hosted the Danger Gods the previous evening at Fantastic Fest, and I moderated.
Our Dinner with the Danger Gods from Brandon Gray on Vimeo.
The participants were:
Gary Kent, the handsome man in the middle with the shock white hair, who lives here in Austin. Gary is also an actor, author and filmmaker. Onscreen he's one of the roughest guys around, but beneath it all he's one of the most supportive people in the industry and a lover of people and other animals.
Chuck Bail, the big guy to my left, master horseman, one of the best fight coordinators anywhere and the man Richard Rush chose to embody the tough stunt master in his own film The Stunt Man. Chuck has also directed lots of movies and countless TV shows.
John "Bud" Cardos, in the cowboy hat, who could probably just drop the "John" by now. Bud is the senior man in the bunch. He can do anything involving a horse, a car, a fall or a fight. He's also directed lots and lots of movies, including Kingdom of the Spiders with William Shatner.
Bob Ivy, the kid of the bunch, is one of the top wheelmen in the business. He's quiet but observant, and is a historian of the stunt business who can name just about any stunt double in any movie. When Bob speaks, which is not often, you better listen.
I suspected that the conversation might last two hours or so, but it was a solid three hours of memories and laughs. We all learned a lot and laughed with them. The 100 or so people who joined us were no doubt changed forever by the experience. Enjoy these highlights of the show and don't forget to appreciate good things and good people while they are here.
Lars Nilsen is a programmer at the Austin Film Society.