Fantastic Fest Launches Mondo 'Timecrimes' Soundtrack on Vinyl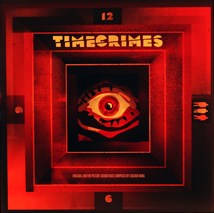 Last month Mondo announced a new venture into soundtracks produced on vinyl, starting with the limited edition release on black 180-gram vinyl, and randomly-inserted milky yellow/clear vinyl of the score created by "Chucky Namanera" for the science fiction thriller Timecrimes. This film about an ordinary man whose life is changed -- repeatedly -- by the consequences of traveling back in time by just one hour debuted at Fantastic Fest 2007 and found U.S. distribution shortly afterward.
Austin composer and writer Brian Satterwhite collaborated with Mondo on the project for this previously unreleased soundtrack, and hosted a special screening and Q&A of Timecrimes during this year's Fantastic Fest at the new Alamo Drafthouse Lakeline. A limited number of the LPs with artwork (pictured at right) including the cover by Australian artist and commercial illustration studio We Buy Your Kids was available for sale at the screening and online.
Namanera is actually the nom de plume of filmmaker Eugenio Mira (Grand Piano, Agnosia), who attended the special screening along with Timecrimes writer/director Nacho Vigalondo and producer Nahikari Ipina. Mira said he prefers to use an alias for his musical accomplishments to keep them separate from his work as a writer and director.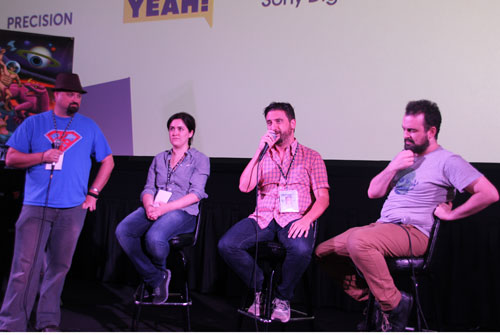 Satterwhite -- pictured above with Ipina, Mira and Vigalondo -- described Timecrimes as a "surgically precise" film, with the pacing of the music in step with the unfolding of the story. Vigalondo stated that initially he wanted the music and score of the film to be minimal and "really cold," with emotions that weren't just hidden in the structure of the film. Mira had to convince Vigalondo to allow him to come up with the score, being only familiar with his "Jerry Goldsmith" style score for The Birthday.

Mira also spoke about his excitement for the semantics and aesthetics contributing to the voices of a film, specifically the concept of chord, and simultaneous voices. The concept for Timecrimes to capture the musical voice of main character Hector was to start from the beginning with apparent chaos to symbolize his confusion. Layers were then taken off to bring harmony as Hector's realization increases.
During the Q&A Mira stated, "I think that it's really by far the thing that I've done where I've been respectful of the script."
Vigalondo hinted that he's coming up with a new script for which he would like Mira to create the score. Fans of both Mira and Vigalondo can expect another collaboration between the talented composer and filmmaker in the not-too-distant future.
Any vinyl album enthusiasts who enjoy musical scores should order a limited edition Timecrimes soundtrack LP with a special randomly inserted milky yellow/clear vinyl before this collector's item is gone.
[Photo credit: Timecrimes Mondo Release by Debbie Cerda, for use with accreditation]