Fantastic Fest Review: The Congress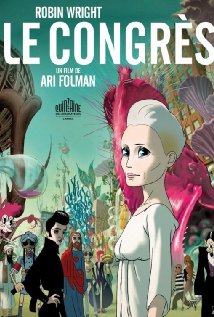 My favorite selection from Fantastic Fest 2013 combines the best aspects of all genres represented at the fest. It is a powerful science fiction story with an element of horror in biting social commentary played out in a half real, half animated Bakshi-esque environment. Loosely adapted by director Ari Folman from the Stanislaw Lem novel The Futurological Congress, The Congress expands on the story set down by Lem in a production of which he would likely approve.
Robin Wright won a Fantastic Features best actress award at the fest for her role as Robin Wright, a fictional version of herself who is encouraged by her agent Al (Harvey Keitel) to sell her digital likeness to the studios. In exchange for a small fortune that will allow her to spend her life with her ailing son Aaron (Kodi Smit-McPhee), she can never perform again even in something as small as a church play.
Wanting to maintain the illusion of control, she consents to a 20-year contract with stipulations that her likeness would not be performing in various kinds of roles to which she would object. Unable at first to get comfortable with the scanning apparatus, Robin displays the full range of her emotions as Al relates a story to her that is alternately happy and heartbreaking. Perhaps as a result, at the end of her contract 20 years later, the studio (cleverly called "Miramount") is pushing for a renewal as her digital image has become the most popular actor in their stable.
This is where the story in The Congress more closely resembles Lem's novel, as Robin travels to the "animated zone" to meet and sign her new contract. A chemical cocktail alters her perceptions, and the world takes on a look as if it were animated by Tex Avery, Max Fleischer, Moebius, and Ralph Bakshi in a shared dream. Desert sands assume psychedelic colors, planes undulate like lazily-swimming whales -- in an aquarium, penis-fish swim around while others have mouths resembling vaginas sucking the glass like algae-eaters.
After a lifetime of making bad choices, Robin still seems to be making them, and she is plunged into a situation that may forever separate her from her family. The Congress spells out thematically a powerful update to Lem's commentary on the role of drugs in modern society and adds to it some statements on the monetization of Hollywood as well as making a critical point about the short attention span of modern audiences. Demonstrating the horror that can lay behind "truth" and the vast loneliness inherent in hiding within a world of dreams and fantasy, Folman presents a world that is simultaneously utopian and dystopian, where actors are reduced to a chemical commodity that can be eaten or drunk, and a shared hallucination allows anyone to be anyone or anything they desire.
The Congress is richly layered with on-the-nose and sometimes more subtle metaphor. Robin lives with her children in an airplane hangar, and the comparison is made to the Wright brothers. Like them, she becomes a pioneer in a world-changing technology. (Ironically, Wright's actual father was a pharmaceutical executive.) Her guide through the shared hallucination is Dylan Truliner (voiced by Jon Hamm), the animator who studied every aspect of her world to bring her digital self to life.
Fortunately a film as moving as this will not lie forgotten, known only to the festival crowd. In addition to Wright's Best Actress nod, The Congress took Best Screenplay and Best Picture at Fantastic Fest, and Drafthouse Films has acquired it for distribution next year.