Watch 'Machete Kills' -- Free!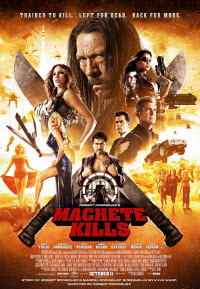 If you didn't go to Fantastic Fest or the festive cast-and-crew screening of Machete Kills earlier this week, Slackerwood has another chance for you to see the Austin-shot movie before it opens on October 11. We have admit-two passes to give away for a screening on Wednesday, October 9 at 9 pm at Galaxy Highland.
After the jump, you'll find promotional codes and links to the Gofobo website where you can enter the code to get an admit-two pass for the screening of your choice. These are first-come, first-served passes and seating is not guaranteed. If you've been to preview screenings, you know that often more tickets are given out than there are seats, so you'll want to arrive early to stake out a good spot in line.
I've seen the movie already -- look for my interview with filmmaker Robert Rodriguez and star Danny Trejo closer to the film's release -- and it's the kind of movie you really want to watch with an audience.
Machete Kills is silly and fun, with a downright bizarre cast including Demain Bichir, Antonio Banderas, Alexa Vega, Austin native Amber Heard, Sofia Vergara, Charlie Sheen, Mel Gibson and Lady Gaga. Oh, and one pretty amazing vehicle. The movie was shot in Austin, but you might not know that unless someone told you.
Are you ready to redeem your ticket?
Click this link, which takes you to the Machete Kills event page on the Gofobo site. Click Get A Pass, then log in or create an account.
If you don't have a Gofobo account, you'll need to create one ... and many preview screenings in Austin now use Gofobo, so you can use the account for more free films in the future. After you sign up or log in, you'll get an admit-two pass that you should print and bring to the theater with you. Best of luck!
And if you can't attend the preview screening, look for Don's review here on Slackerwood when the movie opens on October 11.