Fantastic Fest Review: Tales from the Organ Trade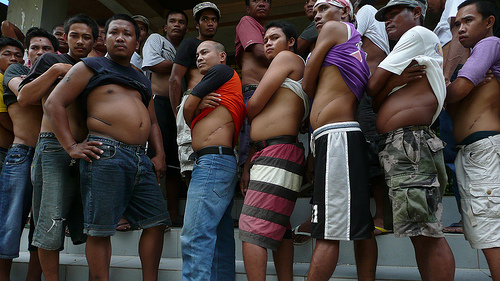 A recurring urban legend is that of a business traveler who awakens in his hotel room after a nightcap in the local bar, finding himself in a bathtub full of ice and a bandaged incision. Upon examination at the hospital, he is informed by doctors that his kidney has been removed.
This cautionary tale would seem quite a fitting start for a horror film, and this year's Fantastic Fest featured a title that is reminiscent of this alleged morbid crime -- Tales from the Organ Trade. However, this film is actually a provocative documentary by writer/director Ric Esther Bienstock and narrated by David Cronenberg that will prompt many people to sign their organ donor card. More importantly, it should cause viewers to wonder what they would do if they or a loved one was in need of a transplant.
Across the world, thousands of people often wait for years for a donor organ while the general perception supported by doctors and the government focuses on the "exploitation of the human condition" to condemn illegal kidney transplants. Bienstock provides an in-depth and well-balanced view of this international phenomena. The stories of two people who have sought and failed to receive organ transplants through conventional means, as well as a third person who owes his survival to an illegal transplant, are contrasted with organ donors in the Philippines.
Forty-four-year-old Joe-Boy wants to sell one of his kidneys to buy a home for his family, whose current home in Manila is a crawl space under someone else's shack with no electricity. Organ broker Diane -- who sold one of her own kidneys -- keeps a list of potential donors for desperate recipients. Meanwhile, Joe-Boy's surgery alternate Eddie-Boy provides young competition as a donor. Eddie-Boy is anxious to move out of Manila and buy a house for his young family. Tensions run high as they receive news of a potential transplant, as the money received by the donor will be twice as much as his annual earnings.
The filmmakers make a point in Tales from the Organ Trade that despite the socioeconomic differences between those awaiting transplants and donors who live in abject poverty, they share commonalities. Both groups suffer from poor quality of life, as we see the physical pain and massive sores resulting from nine years of almost daily dialysis treatment for young Canadian mother Mary Jo Vradis. Denver resident Walter Rassbach considers a foreign transplant, and turns to the Internet in the hopes of finding a charitable donor. As he aptly states, "It's not living, it's existing."
The most fascinating story is that of Raul Fain, who went overseas to Kosovo for a kidney transplant performed by infamous surgeon Dr. Yusuf Sonmez. Now a wanted man by Interpol, Sonmez had been arrested six times in his home country of Turkey for organ trafficking. Prosecutors have alleged that organ donors were coerced and even physically forced into giving up an organ. The production team of Tales from the Organ Trade amazingly track down all the key people involved in Fain's surgery, including donor Anna who freely admits that she entered into the agreement willingly.
What I found most impressive about Tales from the Organ Trade is that the filmmakers were able to track down and interview both fugitive Sonmez as well as his colleague, Israeli transplant doctor Zaki Shapira. Both men present unique perspectives of the clandestine operation of organ harvesting and transplants. Shapira -- who had been attracted to Turkey by the high clinical standards -- actually discusses the benefits of regulation to reduce risks.
The cinematography and editing provide a dynamic and engaging viewpoint of a practice that despite its ethical implications, sustains life -- by providing money to the donors in desperate need to improve their family's lives, and the recipients in need of a kidney to live a prolonged life.
Bienstock's screenwriting for Tales from the Organ Trade is quite effective in stimulating conversation about organ transplants. In fact, I observed an impressive number of Fantastic Fest attendees talk about this compelling documentary long after watching.
Watch the trailer below: