AFS Essential Cinema Brings Three Japanese Masters to Austin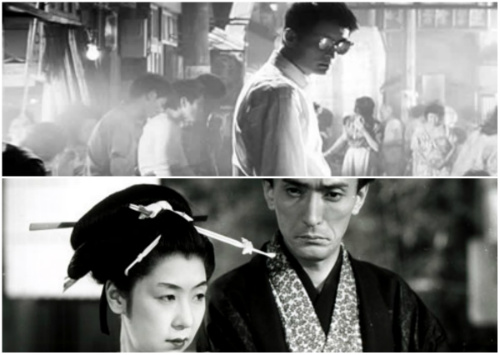 Two films each from directors Akira Kurosawa, Yasujiro Ozu, and Kenji Misoguchi form the basis for Austin Film Society's new Essential Cinema series, "6 by 3 Japanese Master Filmmakers." Lesser-known selections from each director's oeuvre will be shown at AFS at the Marchesa, on Thursdays from October 10 through November 14. If you've only seen Ozu's Tokyo Story, Kurosawa's greatest hits, or you are not exactly familiar with Misoguchi's works, Austin Film Society is providing a perfect opportunity to discover more classics of Japanese cinema.
The six films include one of Ozu's early films (as well as his own technicolor remake), two films by Misoguchi reflecting on gender roles in Japan's history, and two crime dramas from Kurosawa. I asked AFS Director of Programming Chale Nafus about his selections for this series.
Slackerwood: Why were these films and directors chosen?
Chale Nafus: I generally program fairly recent films from Asia each year, but I decided to go back to the roots this time with representative works by the three best known Japanese directors introduced to American audiences in the 1950s -- Kurosawa, Mizoguchi, and Ozu. I also wanted to show early and later works by each filmmaker to provide some sense of changes (or not) in style and content. In the case of Ozu, we will be seeing both his original 1934 Story of Floating Weeds and then his own remake of the same story in 1959.
Do you have a favorite out of the six?
Nafus: I always get nervous when asked about my favorite film. That's like asking Sophie to choose her favorite child. When asked by my ACC students about my favorite films, I made a list of over 750. I don't usually base my programming decisions on a list of favorites. I think of each Essential Cinema series as a group of films which are important because of their ways of telling a story or communicating ideas through a combination of any of the following: images, sounds, dialogue, acting, music, rhythm, frame composition, textures, set design, costumes, movement, shadows, light, and color.
These six films give a good overview of the concerns and artistry of three master filmmakers in the pre-World War II, wartime, and postwar periods in Japan, a country which moved from a militaristic empire through massive warfare to defeat, occupation, and humiliation and finally into a new period of economic renewal. All six films are important in this complex puzzle of massive social upheaval, even when the film's setting is in an earlier time period.
Which are you most excited to be screening?
Nafus: I can't choose one, because of the same reasons stated above. They are all excellent films. Seeing such wonderful films with a deeply engaged AFS audience always makes me happy.
Here's the schedule and ticket info:
Stray Dog (1949) -- Thursday, Oct. 10 [tickets]
In this Kurosawa drama, a cop's service gun is stolen by a pickpocket, leading the officer to go undercover in search of his weapon.
High and Low (1963) -- Thursday, Oct. 17 [tickets] (still in top of collage image)
In a case of mistaken identity, the son of a wealthy man's driver is kidnapped. Directed by Akira Kurosawa. Judging from the trailer below, this one is intense.
Utamaro and His Five Women (1946) -- Thursday, Oct. 24 [tickets] (still in bottom of collage image)
This film from Kenji Misoguchi is a sort of bio-pic of 18th-Century artist Utamaro which also depicts the stories of five of his female portrait subjects.
The Life of Oharu (1952) -- Thursday, Oct. 31 [tickets]
Showing societal and historical limitations on the lives of women, Misoguchi's film spins the tale of a woman whose fate is spurred by a simple embrace with a lower-class man in 17th Century Japan.
A Story of Floating Weeds (1934) -- Thursday, Nov. 7 [tickets]
In Ozu's film, a theatre troupe is marooned in a small town where the troupe's master has a son with a former lover. The college-age son doesn't know who his real father is, and a jealous older actress asks a younger actress in the group to seduce him.
Floating Weeds (1959) -- Thursday, Nov. 14 [tickets]
The screenplay for the 1959 film was co-written by Ozu and Kogo Nada, based on the original 1934 screenplay by Tadao Ikeda. The colors are sumptuous as the story meanders around, interspersed with scenes from the theater group's show. Trailer below: