Fantastic Fest 2013 Dispatch: Birthdays, Filmmakers and Festival Fatigue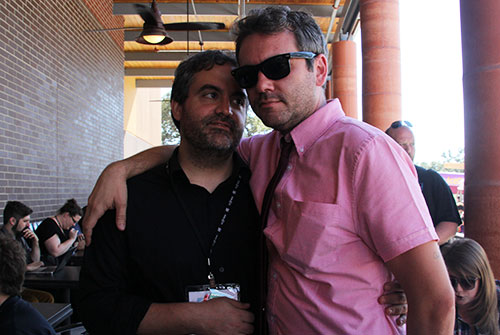 I can't possibly imagine how I would have managed this year's Fantastic Fest anywhere other than at the new Alamo Drafthouse Lakeline. Balancing the demands of a new day job and my first film project along with the festival has been a daunting task, but the ten-minute commute and ease of parking helps. Attending Fantastic Fest has always been an immersive experience for me as I soak up content and engage in social interactions with incredibly talented filmmakers, actors, fans and film critics -- such as Badass Digest's Devin Faraci (who's in Jodorowsky's Dune) and actor A.J. Bowen (The Sacrament) seen above -- from around the world.
I am also extremely fortunate that despite having lost my Superfan status of several years when the lottery was implemented, I've still had great experiences at Fantastic Fest. The only disadvantage is not being able to get into the high demand and secret screenings to sit with the Fantastic Fiends that I've known since the first fest in 2005.
The addition of the Fantastic Market (Mercado Fantastico) has brought more film industry representatives from around the world including buyers, distributors, and producers looking for new talent and developing projects, such as director Emilio Portes (Belzebuth) pictured above.
I've heard a few longtime attendees express their concern that Fantastic Fest could become less about the fans and more about the industry. My successful counterpoint in the discussion was, "You've made personal connections with several of these filmmakers and love their films -- don't you want them to achieve the success they need to finance new film projects? Don't you want to be at a festival where a first time filmmaker wins his or her first award?"
If that's not enough for you, think about the coolness factor -- not only watching an independent documentary about the greatest science-fiction film never made, Jodorowsky's Dune, but the bonus of a Q&A with filmmaker Frank Pavich as well as interviewee and film critic Devin Faraci.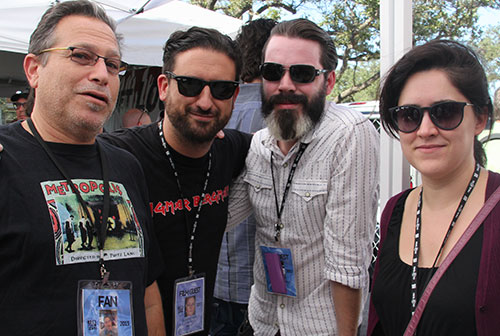 With that in mind, I felt festival fatigue set in on the fifth day and didn't see even one film at the theater, yet so far it's been my most memorable day of the fest. Monday was the day that I interviewed Frank Pavich, talked film, music, and novels and enjoyed drinks on the patio with birthday boy Eugenio Mira -- seen above with friends -- and Elijah Wood (Grand Piano), as well as talented screenwriter and novelist C. Robert Cargill (Sinister).
Do you have a favorite Fantastic Fest 2013 moment so far? How do you combat festival fatigue? Feel free to leave a comment below.
[Photo credits: "Devin Faraci and AJ Bowen," "Emilio Portes" and "Eugenio and Friends" by Debbie Cerda, for use with accreditation.]