Gary Kent Prepares You to Meet the "Danger Gods" on Friday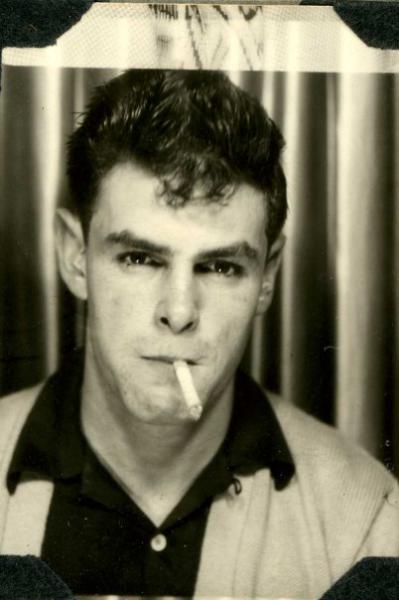 By Ellie Kotapish
Prepare yourself for jaw-dropping tales and a night in Austin with five of the most daring men in Hollywood. Starting in the 1960s, these "Danger Gods" have been performing stunts of extreme levels for many years. But they are capable of more than just crashing cars and freefalling from tall buildings.
I had a sneak preview of what's to come at Friday night's "Our Dinner with the Danger Gods" event, as special guest Gary Kent (pictured at right in his early stuntman days) discussed revolutionary cinema in the 1970s along with his experience as a stuntman and filmmaker.
Counterculture takeover:
The '60s were a time of revolution in the streets as well as the studios. This change is evident not only in the content of the films but also in the filmmakers themselves. Kent entered into this counterculture takeover fully aware of this "new energy," as he described it. It was this revolution in filmmaking that lured Kent to Hollywood in the first place.
With television absorbing audiences, drive-ins were left with a different crowd and "no product," Kent said. At the same time, this vacuum at the heart of the exhibition market meant independent filmmakers finally had a place to showcase their work. And with no studio control, the subject matter had virtually no limits.
Love of the stunt:
As all these forces were beginning to coalesce, Kent took a bus to L.A. to pursue acting under the naive impression that the actors performed their own stunts. It didn't take him long to realize that his skills as a stuntman were in higher demand than his acting talents.
Kent's first gig as a stuntman – with no experience whatsoever – was on Monte Hellman's film The Shooting (1966). At the same time -- and shooting in the same locations -- he doubled for actors Jack Nicholson and Cameron Mitchell on the film Ride in the Whirlwind (1966).
While in Utah filming, Kent's path crossed with the location company of the Daniel Boone (1964-1970) TV show, which employed a raft of Hollywood's top stunt performers. The production was in need of another stuntman, so Mitchell recommended Kent. Today Kent laughs as he recalls how they soon caught on to the fact that he was completely inexperienced and didn't know how to prepare for stunts. This included tricks like digging up the compacted dirt and adding soft sand to a landing spot to cushion falls.
"They accepted me into the ranks and started teaching me stunts and how they were really done," Kent said. Soon he was being hired as a stunt coordinator, a position he ended up favoring.
"I have changed stunts to make them safer," he said in regards to the safety precautions he was in charge of overseeing. In addition to looking out for his team, he described this position as the "art of making action look really good."
Independent filmmakers:
Stuntmen like Kent along with John "Bud" Cardos and Chuck Bail (who will also be in attendance on Friday) rode the new wave of filmmaking in the 1970s into real film careers. The old rules were irreversibly broken. Where once films had lulled audiences into a candy-coated artificial dream, they now sought to shock and awe audiences with unabashed truth. For Kent, this was refreshing after a decade of glam and distraction in the Hollywood dreamland.
"I fell in love with filmmaking, period." he explained.
But Kent and his peers did more than just perform in front of the camera. They found themselves calling the shots soon enough and began directing their own movies. Of the '70s indie film scene, Kent says, "Whatever had to get done, you'd have to get it done." He found that the skills he had learned as a stunt coordinator more than prepared him to be a director.
"I wanted to direct. Friends were doing it and I wanted to take that step."
Rainy Day Friends:
Kent wrote and directed the feature Rainy Day Friends (1985), which won Best Special Stunt in a Motion Picture at the International Stuntman Awards. He based the awardwinning stunt on a real life experience he had as a child, when his leg was caught in a car and he was dragged alongside. His own experience gave the scene a harrowing realness that made viewers' hearts jump into their throats.
Challenging endeavor:
When asked about a stunt he remembered as being particularly challenging, Gary recalls a very tricky one from Richard Rush's LSD epic Psych-Out (1968). It involved crashing through a dome three stories high, and because the camera angle was so tight, there was no room for the customary pad on the floor.
"On film it looks like nothing, but I just barely made it over," Kent said. He busted through the dome dangling from a rope and swung about "8 to 10 feet" to his safety. It's stories like these (and there are many more) that have earned Kent his honorary status as a "Danger God."
Even a brief conversation with Gary Kent about life, stunts and the movies is a thrilling experience. On Friday, he'll be joined by four other greats at the Marchesa Hall and Theater for an evening of recollections, stories and advice: Bail, Cardos, Bob Ivy and Bobby Sargent. Be careful looking up their voluminous film credits because you may crash IMDb in the process.
In addition, if you're at Fantastic Fest tonight, the Danger Gods will perform a live stunt show you won't want to miss.
Ellie Kotapish is an intern with the Austin Film Society.