Fantastic Fest 2013 Dispatch: Scriptless Successes, Covert Disney Ops and Grand Suspense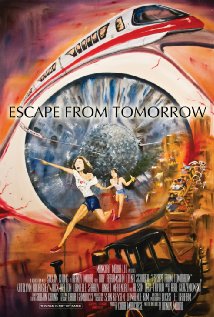 After three days of films and parties, it would seem the only bad choice at Fantastic Fest 2013 is to not be at Fantastic Fest this year. Response to almost all the movies has been overwhelmingly positive, and I found at the end of the second day that I enjoyed every selection more than the previous one.
I began the fest on Thursday with Coherence, an intriguing exploration into the human psyche when confronted with an impossible situation. Many of the best films over the years of the fest have been shot on zero budget with just a good idea and a great script. This one foregoes the script and instead let the actors truly go "method" as they were only provided with character notes about motivations or specific things they needed to say or do. Yet from these, the actors build performances that draw the audience into their nightmare.
One of the most feel-good selections ever witnessed by Fantastic Fest viewers, Detective Downs' title appears deceptively insensitive. It is, however, a rare film that never insults with boorish attitudes nor by handling its subject with kid gloves. The limitations imposed by Downs Syndrome are not lost on the titular detective, Robert Bogerud, but in the face of dismissal by everyone around him this hero persists in emphasizing his unique strengths. With a spot-on noir aesthetic, a dark plot, and some perfectly-chosen offbeat covers of familiar tunes, Detective Downs is still entirely worthy of a Fantastic Fest marquee, even though it will leave you smiling.
Escape From Tomorrow has received the strongest buzz of any movie at the fest this year, and there was no question I had to see it at the first opportunity. It is as notable for the way it was filmed as for the amazing story it presents. Except for a couple of shots, the film was shot entirely on the grounds of Walt Disney World's Epcot Center and Magic Kingdom parks, without the consent or knowledge of Disney. It is an achievement in underground cinematography, reviving techniques from the earliest days of filmmaking. Meticulously planned shooting schedules required the actors and crew to criss-cross the park to be able to shoot in the right daylight. Eerie, empty shots of a deserted park meant they had to be the first to arrive, running into the park to get shots before anyone else turned up at the attractions. All this is used, however, to present a multi-layered story that is as ingenious as it is subversive. This is a mind-blowing look at the seedy underside of the "happiest place on Earth."
Eugenio Mira is a Spanish talent well-known to Fantastic Fest audiences as the composer of Nacho Vigalondo's Timecrimes. He's also premiered two films at the fest (The Birthday in 2005, Agnosia in 2010), neither of which has had much traction in the U.S. That is about to change. Starring Elijah Wood, John Cusack and Alex Winter, Mira's latest, Grand Piano, is a contender as one of the strongest films to ever play at Fantastic Fest. After a few minutes to introduce the players and set the stage, Grand Piano takes flight into thriller territory not as well explored since Hitchcock and a possible career-best performance for Elijah Wood. Grand Piano is not to be missed -- and since Magnet is releasing the film in the U.S. next year, there's no need to miss it.
Saturday night was capped with the annual Fantastic Debates, which exploded this year into an event many people are saying was the best the unique half-debate/half-boxing match event has ever been. Four matches covered topics from the worthiness of Sylvester Stallone to be called the only great action star, to Tae Kwan Do vs Tai Chi as the martial art of choice. Austin film blogger Jacob Hall squared off against Denver critic Brad McHargue on the merits of 28 Days Later as a proper zombie film. In the main event, Alamo Drafthouse founder Tim League fought martial arts master Tiger Hu Chen in a battle that reunited Bill S. Preston and Theodore Logan -- Alex Winter took one corner of the ring for League opposite Keanu Reeves in the corner for Chen.
Check back later for photos of Fantastic Debates and other scenes from the fest -- for a sneak preview, take a look at the Slackerwood Flickr page, where Slackerwood contributors are uploading fest pix.