Five Questions for Eliza Hittman, 'It Felt Like Love'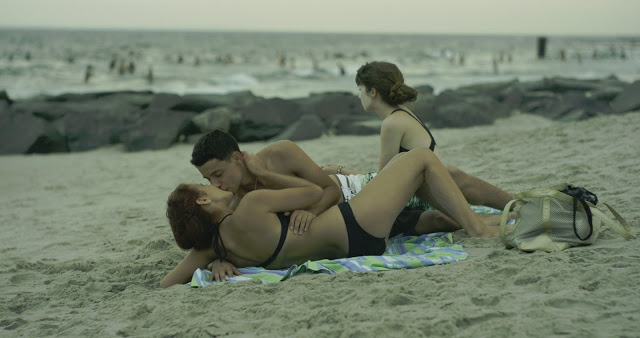 Filmmaker Eliza Hittman comes to Austin on Saturday, September 21 for the Austin Film Society and Cinema East presentation of It Felt Like Love at AFS at the Marchesa.
Hittman's first feature film was an instant critical success when it premiered in January at the Sundance Film Festival. Drawing favorable comparisons to films by Catherine Breillat and Larry Clark, the movie was most celebrated for having a cinematic vision all its own of teenage girlhood. Hittman's sublime artistry and masterful knack for storytelling makes It Felt Like Love one of the must-see indies of the year.
In answering my five questions about the film, Hittman discusses the predatory instincts of teenage girls, her own Brooklyn summers at age 14, the one photograph that inspired the feature, and breaking the mold.
Holly Herrick: The movie feels like an anti-coming-of-age story, which is so refreshing. There is no voyage of self-discovery -- the heroine is charging forward towards an idea of her desires, yet they are unclear to her. Can you discuss how you approached this dilemma?
Eliza Hittman: I have always been fascinated with the portrayal of coming-of-age themes in film, but I felt the American films are so conservative and I wanted to challenge the tropes used in the indie sphere. I started out asking myself questions like: Why is it so funny to watch teen boys masturbate, and why would you never dare show the same event with a female character?
My goal before I wrote anything was to make an anti-coming-of-age story. I wanted to explore taboos around female adolescent sexuality and identity. I wanted to capture the duality of being a young teenage girl. There is both a naive side and a predatory side in girls at that age. Maybe it's because I didn't grow up in suburbia, but I think it's very common at that age for girls to target guys they want to lose their virginity to or hook up with and throw themselves into ambiguous situations where they think they have the power. I wanted to make a film about that vulnerable encounter or confrontation.
Herrick: This is a really remarkable debut film, and I am wondering if you could discuss your background, your experience making short films, and talk about what prepared you to take on such an ambitious project with your first feature film.
Hittman: I started out working in theater, directing small unconventional plays in New York and knew I had an interest and passion for directing, but my enthusiasm for theater died. I always loved American independent film. I used to cut classes in high school and see movies by myself at the Angelika.
It wasn't until a few years ago that I was exposed to a few Columbia student short films. I was really tempted to make something, but I was intimidated by the technical side filmmaking. I had also never written anything before. I decided to go graduate school at CalArts to challenge myself and see if I could make films.
I made three short films as a grad student that all dealt with coming-of-age themes -- there's a very clear trajectory. With each film I experimented more and more visually but also how far I could push things emotionally. I was really envious of the international students who left Los Angeles on the holidays and went back to their exotic Asian countries to shoot films. It forced me to re-examine Brooklyn, my rapidly changing home town, and figure out how I could mine my own experiences for something exotic.
My thesis film Forever's Gonna Start Tonight, which was shot in Sheepshead Bay, screened at Sundance. Despite the positive reception, I had very little contact with the industry. I didn't want to wait years to make a feature, so I wrote something I could literally shoot in my own backyard. All the while writing it, I was simultaneously thinking about how to produce it and direct it. I see this film as the culmination of the work I've been doing for the last decade, perhaps even a lifetime.
Herrick: It Felt Like Love beautifully captures a mid-Atlantic summer through a teenager's eyes. How much did you draw on your own memories of youth, and what other sources did you consider or draw from in crafting the tone?
Hittman: It all started with a Rineke Dijkstra photo of a young girl on the beach at Coney Island in a one-piece bathing suit that reminded me of myself at 14. I always hated summer as a teenager and thought it was a very lonely experience. Without the social infrastructure that school provided, I was terrified of being left behind. I spent a lot of time taking the Q train to the B3 to Greenline Bus to go to Neponsit, an epic trip, to hang out with my best friend on the beach. She very much was the inspiration for Chiara [played by Giovanna Salimeni]. She was too experienced, and that experience placed a wedge in her relationships. Yet she seamlessly managed to keep guys moving in and out of the picture. She was a phenomenon to me.
The story is not autobiographical, but it's definitely a personal reflection of my own emotional neediness when I desperately wanted to be desired, but couldn't figure out how to make someone desire me.
Herrick: Tell us more about your actors. They feel so true to the world -- I feel like they are kids that you'd find yourself overhearing on the NYC subway.
Hittman: None of the kids had much experience, if any. I spent a lot of time on the street observing kids, because I wanted them to feel of the moment, which is a hard look and feel to nail. I would approach people cold on the street or in a park whose look I liked. I also went around to local dance schools, because I'd had success there casting Forever's Gonna Start Tonight. I found Chiara and her hip hop group at Albee Dance Studio in Carroll Gardens -- they were dancers and performers, but none of them had acted. I found several of the kids through Facebook, just by looking at current students and friends of students at my alma mater Edward R. Murrow High School in Brooklyn.
In other words, most of them are just kids you'd overhear on the subway. Gina Piersanti and Ronen Rubenstein were found through more traditional casting methods, though they didn't have much experience either.
Herrick: Can you talk a little bit about your film community in NYC and your collaborators?
Hittman: When I moved back to NYC after grad school, I had a very small network in New York and it was a process of starting over. Most of the friends I had met on the festival circuit went to Columbia. Lauren Wolkstein who made The Strange Ones introduced me to my awe-inspiring producer Shri Sathe, who graduated from their producing program. She also introduced me to my cinematographer Sean Porter who had shot a few shorts there. I'm a terrible networker. I mostly stay at home and write at night.
Holly Herrick is the Associate Artistic Director at the Austin Film Society.
[Photo credit: It Felt Like Love executive producer Gill Holland and director Eliza Hittman at the 2013 Texas Party at Sundance, by Austin Film Society]