Lone Star Cinema: Rushmore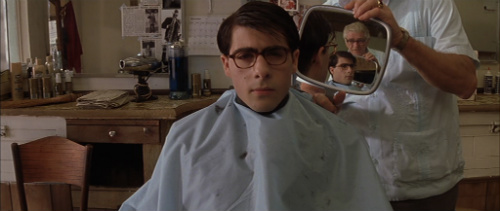 Rushmore tends to be a favorite among Wes Anderson fans I've known. Even people who don't typically like Anderson's movies still appreciate the 1998 prep school comedy. Anderson's second film, based on a screenplay he wrote with Owen Wilson, has bite to it, and isn't as overly stylized as his later works.
Jason Schwartzman plays 15-year-old Max, who is overinvolved with extracurricular activities at Rushmore Academy, a boys' prep school. He's not as adept at academics, however. The headmaster (Brian Cox) refers to him as "one of the worst students we've got." In one fall month, Max becomes besotted with widowed grade-school teacher Ms. Cross (Olivia Williams) and befriends bored millionaire Harold Blume (Bill Murray).
Max is self-confident, yet struggles when Ms. Cross doesn't return his affections. Both he and Blume stalk Ms. Cross periodically. During a recent re-watch, my friend and I found this harassment -- along with Max's shooting of an air rifle at the school campus that was supposedly funny at that time, I guess -- off-putting. Max is finally humbled when his quest to build an aquarium in her honor (on school grounds) gets him expelled.
As created by Wilson and Anderson and played by Schwartzman, Max displays both realistic and fanciful qualities. His lying to friends, his infatuation with an older woman, and his annoyance when met with Ms. Cross' "friend" (played by Luke Wilson) are all believable teenage tendencies. The untruths he tells to others about his mellow barber father (Seymour Cassell) are the closest this film gets to any comment on class.
Bill Murray's Harold Blume is a depressed, friendless (but rich!) mess, and Murray's performance in Rushmore is masterful. During a scene at his twin sons' birthday party, the separation Blume feels from his family is visible as the director captures him across the pool from his wife and sons. His hopelessness as he dives off a high board is almost palpable.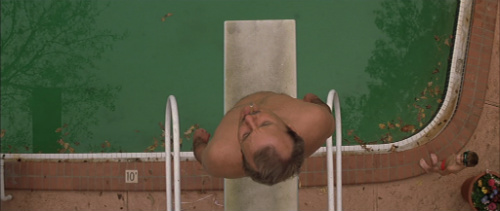 Which is not to say that Rushmore is anything like a downer, given the sharp wit of the script. Cinematic qualities that have come to be associated with Anderson are on view here, such as a slo-mo walk to an obscure pop tune and the actors tending to be (but not always) placed in the center of the frame. I might complain that there's an overuse of slo-mo in Rushmore. It doesn't really detract from the story, I just find that technique only palatable in small doses in any film.
Austin/Texas connections: Wes Anderson is from Houston. The name of the town in the film is never mentioned, but most of the exterior locations are in Houston. St. John's School, which Anderson once attended, stands in for the fictitional Rushmore. Co-writer Owen Wilson is from Dallas. Both attended The University of Texas in Austin.
Bonus! Rushmore is screening at the Alamo Ritz next week (Weds, Sept. 25).
[Stills via Beautiful Stills from Beautiful Films]