Review: The Family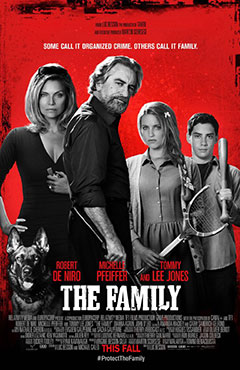 A favorite cable television series in recent years for me has been USA Network's In Plain Sight about U.S. Marshals charged with relocating and protecting federal witnesses. The dramatization of people who must adjust to a new life with a new identity is engaging and thought provoking. How does a person not only leave behind their friends and relations, but also change their occupation or interests to avoid detection?
Based on by French crime fiction author Tonino Benacquista, writer/director Luc Besson's The Family provides darkly humorous insight of a former Mafioso and his family's existence within a federal witness program. When extortion and illegal activities are all you've known for your entire life, it's not easy to adjust to a different lifestyle -- even in the idyllic setting of the French Riviera or the historic and slower-paced Normandy.
Robert De Niro portrays Fred Blake/Giovanni Manzoni, who has a $20 million dollar bounty on his head after ratting out the boss to the Feds. Several years have passed since the Manzoni family had to leave their Brooklyn home and yet they still haven't quite given up old habits. Wife Maggie Blake (Michelle Pfeiffer) has a knack for setting off explosions and son Warren (John D'Leo) sets up extortion and bribery schemes in his school.
Only 17-year-old teen Belle (Glee star Dianna Agron) desires a somewhat normal life, with a fantasy of true romance to save her from her family's restrained existence. Meanwhile the family's handlers, including Robert Stansfield (Tommy Lee Jones), keep a watchful eye on the Manzoni clan. Settling in doesn't go too well for the family, and it's not long before a flock of hitmen descend on their small hamlet to eliminate the Manzonis.
The casting of The Family is a mixed bag, with De Niro playing his typecast role with natural humor. Pfeiffer also nails it as a Brooklyn mafioso wife who misses the good life, yet loves her husband and children fiercely. Agron appears miscast as the daughter of a mafioso -- she's able to display the Manzoni sociopathic tendency towards rage and violence, but her perfect features and lack of a Brooklyn accent are glaring against the rest of the Manzoni family. At 27, Agron is outgrowing her ability to realistically portray a high-school teenager.
The writing and storyline of The Family is disjointed. Despite the strength of the characterization of the relationships between family members, there are too many holes and weaknesses in the plot to be fully engaged. The rapidness at which Belle falls in love with her math tutor was extremely contrived, and the manner in which the location of the Manzoni family is revealed to the incarcerated Mafia boss is ludicrous. Even in a fictional story, viewers can only accept so much suspension of disbelief.
The cinematography and art design are among the few strong points of this film. The filming locations in the Orne department of France lend authenticity to the setting, leaving me yearning for a trip back to the Normandy region and the quiet hamlets and small towns to enjoy French cider, Calvados and sea-salt caramels.
Overall, The Family is a lukewarm dish lacking in the richness of Normandy fare, and I recommend waiting for availability through video on demand platforms. Also note that due to inferred graphic violence as well as graphic language this comedy is suited for mature adult audiences.