TAMI Flashback: Central Texas Fun in the Sun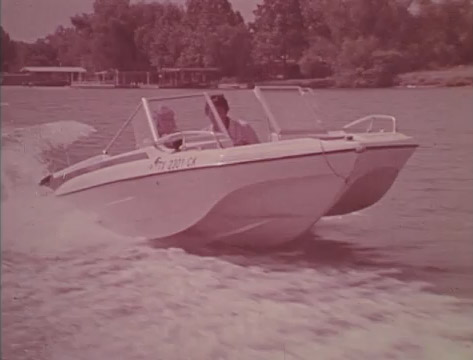 This article inaugurates Slackerwood's second series about the Texas Archive of the Moving Image (TAMI) video library. For an overview of the TAMI site, refer to this article in the first series.
After a nearly two-year hiatus, it's great to be back on the Slackerwood TAMI beat. Since our first TAMI series ended in December 2011, TAMI has added a zillion or so new videos to its ever-expanding collection. The site also has undergone a slick redesign with lots of helpful features, including a monthly article highlighting new releases.
I'm kicking off this new series with a trio of 1970s vintage videos about outdoor fun in the Texas Hill Country, a popular destination for Austinites as the 100-degree heat of summer gives way to the crisp and refreshing 90-degree chill of fall.
Produced circa 1972 for the Highland Lakes Tourist Association and the Austin Chamber of Commerce, Ballooning over LBJ Country is a tour of the Highland Lakes, starting 85 miles northwest of Austin at Lake Buchanan and ending at Lake Austin. As a balloon drifts over the lakes and shows us stunning Hill Country landscapes, an earthbound family travels the same route in an RV, visiting Hill Country towns and landmarks.
The family makes the usual Hill Country stops: Burnet, Llano, Marble Falls, Longhorn Cavern, Enchanted Rock and LBJ's boyhood home and ranch. As we hear oh-so-Seventies easy-listening music (if plaid polyester slacks were music, they would be this soundtrack), the narrator gives us a tourism spiel about quaint towns and pristine waters. This part of Ballooning over LBJ Country is a pleasant, sun-dappled trip.
And then the balloon and the family reach Austin, and you just want to cry. Lake Travis and Lake Austin are sparsely developed, and the artful aerial shots show a low-rise, Lost Austin downtown uncluttered with condo towers. The scenes on the ground just pour salt in the wound, showing Austin in its heyday as the family checks out Zilker Park, the LBJ Library, the dearly departed Aqua Fest and other River City highlights.
Unfortunately, the original color in Ballooning over LBJ Country is all but lost; what's left is a purplish monochrome. Still, the film is a great (if somewhat painful) trip back in time.
[View original at Texas Archive of the Moving Image.]
The Texas Parks and Wildlife Department gives us Fun in the Hills, a circa-1970 overview of Central Texas festivals and other events such as San Antonio Founders Day, Berges Fest in Boerne, Wurst Fest in New Braunfels, and Aqua Fest.
The amusing thing about Fun in the Hills is that although the footage is from many festivals, much of it looks the same. No matter the festival, people eat sausages, chili and funnel cakes while buying beer steins and listening to mariachi music or Oompah bands (I swear it's the same band in every shot), as if Central Texas is in Bavaria, which is part of Mexico. There is also an odd sequence about off-road motorcycle racing (alas, it lacks an Oompah band), with this gem of a quote from the narrator: "Perhaps the modern Texan warms to the trail bike the way his forbearer cherished his horse." Or perhaps not.
Like Ballooning over LBJ Country, Fun in the Hills is an often beautiful film (although its color is mostly gone also) and a fitting tribute to the culture and natural beauty of Central Texas. It sums up this beauty with a great quote from Lyndon Johnson: "When I come here and stay two or three days, it's a breath of fresh air. It's new strength. I go away ready to challenge the world."
[View original at Texas Archive of the Moving Image.]
A less touristy and more educational film is A Boat Is Not a Car, also from the Texas Parks and Wildlife Department. Shot on Lake Travis and in Austin (look for the John H. Reagan State Office Building and the then-new Bill Gaston Boats & Motors dealership at Research Boulevard and Mopac), this 1973 boating safety film is the story of two novice boat owners who have a very, very bad day on the maiden voyage of their slick new power boat. (An Austin-made Glastron boat, of course.)
Although it makes serious points about safety, A Boat Is Not a Car is a very funny film. The boat owners -- a young couple so attractive, you want to be in the boat with them -- are enthusiastic but gloriously incompetent. In one afternoon on Lake Travis, they manage to launch the boat without gas in the tank, run it aground, nearly run over a water skier, and crash into a dock. Even more fun are the cheery theme song (earworm warning!) and sometimes wooden acting (most of the actors obviously aren't professionals), along with some blatant Seventies-style sexism. The woman (Debra Sears) is afraid to pilot the boat, saying she's "not good at all at mechanical things" and acting completely helpless when she finally gets behind the wheel.
A Boat Is Not a Car is most significant for one of its stars, Guich Koock. Koock made a career of playing good ol' boys in dozens of films and TV shows, including Texas productions such as The Sugarland Express, North Dallas Forty, and Walker, Texas Ranger. He's also the former co-owner of Luckenbach, Texas and the nephew of blacklisted radio entertainer and iconic Austinite John Henry Faulk. Koock has a fascinating life story; for more about him, refer to his biography on the TAMI site. (Click the About Guich Koock tab on the A Boat is Not a Car page.)