Lone Star Cinema: A Perfect World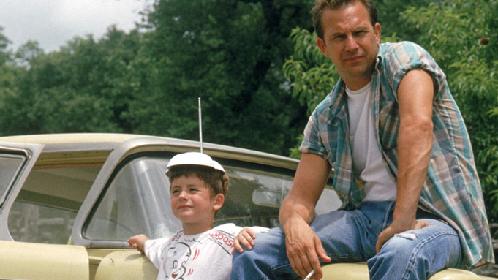 A Perfect World is a somewhat forgotten Clint Eastwood film, which is a shame. It may not be quite in league with Eastwood's best work (that's a very tall order), but this unconventional crime film is both a gripping chase movie and a nuanced tale of a relationship between a misunderstood criminal and a young boy.
Eastwood directed and starred in this 1993 drama set in 1963 Texas, in which he plays Texas Ranger Red Garrett, a seasoned lawman in pursuit of prison escapees Butch Haynes (Kevin Costner) and Terry Pugh (Keith Szarabajka). Shortly after their escape, Butch and Terry break into a house and kidnap 9-year-old Phillip Perry (T.J. Lowther), son of a devout Jehovah's Witness mother.
Terry soon makes a violent exit from the story (he's such a bastard that we're glad to see him go), leaving Butch to outrun the law with his young hostage. Red -- who seems to regret being involved with Butch's prosecution years earlier -- pursues them across rural Texas in a shiny new Airstream mobile command center with help from young criminologist Sally Gerber (Laura Dern), who annoys Red with her newfangled book learnin' about criminal behavior.
As the chase unfolds, what could be a standard cops vs. criminals movie isn't standard at all -- A Perfect World is more about the unexpected bond between Butch and Phillip than Red's desperate pursuit of them. The two spend a lot of time driving and hiding out in rural locales, and A Perfect World uses this time wisely, convincing us that Butch and Phillip have enough in common to make such a bond believable. Both have deadbeat dads and long to escape their lives; Butch wants to put his days of poverty, trouble and crime behind him, and Phillip wants to explore the world beyond his strict mother's religious prohibitions. (As a Jehovah's Witness, she won't let him celebrate his birthdays or go trick-or-treating.)
There is a fair amount of action and violence in A Perfect World, including a car chase or two and a riveting, brutal climax. But it's not an action film. Its thoughtful tone and intimate, character-driven storytelling are pure Eastwood, reminiscent of his other films of that era. (A Perfect World followed Unforgiven and preceded The Bridges of Madison County.) Writer John Lee Hancock's script has shades of his fellow Texan Terrence Malick's work, and there are obvious Badlands influences as well. It's a beautiful, meditative film about childhood yearnings, adult regrets and the eternal conflict between law and morality.
Unfortunately, A Perfect World's depth and meditative nature may have been its undoing at the box office and in film fans' memories 20 years later. It's a terrific film, but maybe an unmarketable one (it wasn't the hit it should have been). Critics love it, but fans of pure shoot-'em-up crime action should probably look elsewhere (they certainly did during its theatrical run) -- unless they have the patience for sweeping shots of Texas nothingness and conversations full of moral ambiguity. Indie fans may have passed on this one due to its star-studded, pretty-faced cast (two words: Kevin Costner), but they shouldn't skip A Perfect World; all parties involved do excellent work -- even the hit-or-miss Costner, who delivered some fine performances before his career all but imploded with Waterworld and The Postman.
A Perfect World is available online, on DVD and on Blu-ray. The DVD and Blu-ray have only two extras: the theatrical trailer and lists of the cast and crew's film credits. (This is an odd and quickly obsolete feature in the age of IMDb.) But for collectors, the price is right -- the DVD is a mere $5 on Amazon.
Austin/Texas connections: A Perfect World was filmed in Austin, Bastrop, Brackettville, Martindale and Huntsville, as well as in Alabama and South Carolina. John Lee Hancock is from Longview. A dozen Texas-born actors appear in minor roles, including ubiquitous character actors Bruce McGill and Marco Perella.