Tickets to AFF's Film & Food Party Now On Sale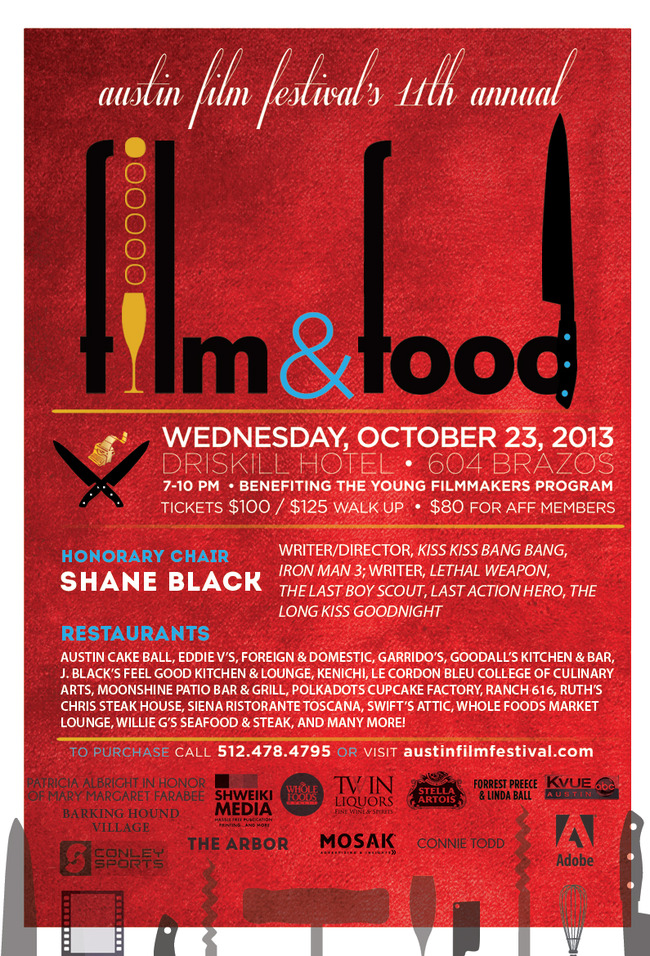 Are you looking for a place to network, bid on movie memorabilia, and nibble on tasty tidbits from local restaurants? Austin Film Festival's 11th annual Film & Food Party -- a fundraiser for AFF's Young Filmmakers Program -- offers you the chance to do just that in one night.
Shane Black (Kiss Kiss Bang Bang, Iron Man 3) will be the honorary chair for the event on Wednesday, October 23 at the Driskill -- the night before AFF begins.
Jette took me as her plus-one to last year's party, and we got to taste a variety of flavors from local spots. While I was slightly disappointed that the "cheese balcony" only had two or three types of cheese available (I was expecting a ridiculous cornucopia of cheeses), I did enjoy them all. Mini cupcakes and sweet-and-spicy popcorn were among other yummy options available.
Restaurants involved in the Film & Food Party this year include Foreign & Domestic, Garrido's, Moonshine Patio Bar & Grill, and Kenichi ... along with many more.
To give you some idea of the scope of the silent auction, items in 2012 ranged from a leather messenger bag (which Jette bid on*) to spa bundles to autographed scripts and movie posters. The live auction is likely to include some nifty getaways.
Slackerwood's own Marcie Mayhorn is on the planning committee for the festivities, so it's sure to be great. You can buy tickets on AFF's site; $100 online, $125 at the door, $80 for AFF members or badgeholders.
*Editor's note: And which I won, and still have. I may or may not have outbid Statesman critic Matthew Odam for it.