Ready, Set, Fund: Animation Love and Movie Geekiness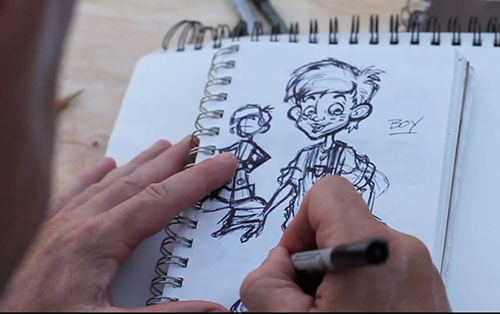 Ready, Set, Fund is a column about crowdfunding and related fundraising endeavors for Austin and Texas independent film projects.
I've had a passion for animated films for as long as I can remember, having grown up with Disney classics such as Lady and the Tramp and Sleeping Beauty ... and as an adult, enjoying The Iron Giant. A short animated film project that's currently funding on Kickstarter through September 10 caught my interest -- Is There Anyone Out There?
Texas writer/director Jonathan Reynolds has brought together a talented creative team to support this family-friendly film, which addresses the universal question in a whimsical manner.
The score for Is There Anyone Out There? has already been performed and recorded in Austin by British composer Andy Dollerson and Austin's own Tosca String Quartet. San Antonio-based voice actor Terry Anderson is providing the narration for the tale of two boys questioning their fathers whether there's life beyond their own planet.
Illustrator J.R. Fleming will create the background art for the film, and the preliminary watercolors are spectacular. The team of artists includes animator Greg Peters, who resides in Waco and has worked on classics for Disney, Warner Bros., and Hanna-Barbera including my personal favorite, Pinky and the Brain.
Check out the pitch video below, which includes Peters and Fleming speaking about their collaboration with Reynolds and their love of animation.
Movie geeks who have an appetite for behind-the-scenes video can be satiated by watching the Nerdist Channel's web series Ain't It Cool With Harry Knowles, which features guests such as The Walking Dead SFX master/sometimes-director Greg Nicotero and actor Caroll "Big Bird" Spinney. I still can't watch Knowles's "Ray Bradbury Remembered" episode without crying for my favorite author.
Despite an International Academy of Web TV nomination for "Best Non-Fiction Writing for a Web Series," the Nerdist Channel did not pick up the series for a second season. Knowles and his AICN supporters hope to keep the series going -- Ain't It Cool With Harry Knowles is seeking funding through Thursday, September 5 on Kickstarter. Backer perks include t-shirts and DVDs ... and an opportunity to join the live audience at the production's basement studio in Austin.
Other film-related projects funding this month:
Love Land -- This project by local filmmaker and The University of Texas at Austin grad Josh Tate is about a young woman who challenges stereotypes of disabled people. The film originally appeared in our June Ready, Set, Fund column, and is now in post-production. (Kickstarter, ends September 8)
Behind the Nose -- Mockumentary about what happens when the circus leaves town and a clown troupe must face an uncertain future. (Indiegogo, ends September 22)
Blade Roller -- Local filmmaker Max Juren is creating a feature-length version of his art video short, which portrays a mystical connection between an average kid and a rollerskating alien. (Indiegogo, ends September 14)
Have a project that you would like to be considered for an upcoming "Ready, Set, Fund," feature about crowdfunding and related fundraising endeavors for Austin and Texas independent film projects? Contact us with subject line "Ready, Set, Fund" if you've got a film fundraising project going on you'd like us to know about.